Texas Tech Football wants balanced plays this season
With an offense that has relied heavily on passing over the years, Texas Tech football is heading in a different direction, schematically.
Texas Tech Football is notorious for its high-powered offense that relies heavily on passing. For head coach Kliff Kingsbury, that's no longer an acceptable game plan, as he voiced an urgency to continue to add dimension to the offense.
Throughout the years, Texas Tech has faced two issues when trying to control the clock and tempo: the run game, and the defense. Offensively, the Red Raiders averaged 3.2 yards-per-carry last season, but it was former quarterback Patrick Mahomes who accounted for the bulk of the rushing hards.
Mahomes put up 285 rushing yards in 2016, and had 12 rushing touchdowns, which put Tech at a disadvantage in a few ways. On one hand, Tech had a mobile quarterback who had no problem extending plays, whether throwing on the run, or making plays with his feet. However, it also made him a target, as he experienced last season against Kansas. By Mahomes being Tech's top rusher, it limited the offenses production significantly, and made it incredibly easy for opposing defenses to dial up pressure, and figure out the game plan.
Opposing defenses knew Texas Tech Football's identity was to air the ball out, and they grew to expect quick drives because of it, thus, giving Tech's defense just minutes to recover from opposition that was much more balanced. If a defense is on the field for 7-8 minutes, with a 2-4 minute break to recover, it's going to get beat, as Tech has experienced throughout the Kingsbury era.
Kingsbury acknowledged the issue at Texas Tech's media availability on Tuesday when addressing why Tech is focusing on balancing the offense.
"So they can't make you one dimensional." Kingsbury said. "It's hard for a quarterback when they're dropping eight to find the open guy… luckily we had a really good quarterback who could manage it, but that wasn't fair to him."
Kingsbury continued to specify just how balanced he wanted Texas Tech Football to be this season, "Numbers wise, I'd love to throw it probably 45 and run it, maybe 40 a game," Said Kingsbury. "That would be good for me."
While Texas Tech had fewer passing yards against Eastern Washington, they had slightly higher rushing yards compared to Tech's opener last year. To offer comparison, in the opener against Eastern Washington, quarterback Nic Shimonek had negative plays for -19 yards rushing. Considering actual running backs accounted for 177 yards and three touchdowns is a good sign that the game plan redux is on the right track.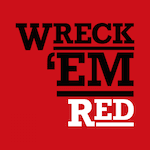 Texas Tech has a bye this weekend as it prepares to take Arizona State next weekend, and as Kingsbury said, it gives them more time to prepare for a team that is preparing to face another team, putting Tech at a slight advantage.