Texas Tech basketball: Why the Red Raiders lost to West Virginia
In Saturday's 66-64 defeat in West Virginia, it isn't hard to figure out why the Texas Tech basketball team lost its second-straight game.
Texas Tech basketball fans knew that winning in Morgantown wasn't going to be easy.  It never is.
For instance, remember that last year, the best Texas Tech team ever had to scratch out a 62-59 win at West Virginia.  That was against the worst team Bob Huggins has had in his time at his alma mater.
What helped push Tech over the hump in 2019, the first time the program had ever won at WVU, was a fantastic game from its best player.  After being held without a point in the first half, eventual Big 12 Player of the Year, Jarrett Culver, had 18 points to lead his team to the win.
But also important was the fact that he got some help from his teammates.  Matt Mooney had 14 points that night while Davide Moretti pitched in 12.
Unfortunately, Tech couldn't repeat that formula this year.  Moretti did his part though.  With 16 points, he bounced back rather well from his worst game as a Red Raider.
Tuesday, the junior was just 3-11 from the field and 0-6 from behind the arc against Baylor.  However, he made 6-13 shots Saturday, including 4-9 from deep.  He accounted for nearly 30% of Tech's scoring and early in the game, he single-handedly kept his team in the game.
Scoring nine of Tech's first 14 points, he was the primary reason Tech trailed only 16-14 ten minutes into the game.  What's more, he added three assists on a day when offense was tough for the Red Raiders to generate.
Getting others involved has been something that Beard has harped on Moretti about for much of this season.  It became a topic of discussion after the Southern Miss game in December when Moretti was just 3-17 overall and had just one assist while turning the ball over four times.
After that game, Beard said that he wanted Moretti to be a complete player, not just an outside shooter.  That's what he was on Saturday as he was his team's best player.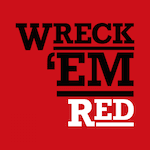 Unfortunately, he was the only Red Raider who able to answer West Virginia's physical challenge.  So let's look inside the box score and see just how the Red Raiders lost this game.