Texas Tech basketball: How the Red Raiders beat No. 1 Louisville
Following the Texas Tech basketball team's historic win over No. 1 Louisville, let's look at how the Red Raiders were able to pull off the upset.
Prior to Tuesday's game with No. 1 Louisville, Texas Tech basketball fans were preoccupied with the status of leading scorer Jahmi'us Ramsey, who has not played since Thanksgiving night because of a hamstring injury.   When the freshman who led the Big 12 in points per game when he went down showed up to pregame shootaround in street clothes, the task facing the Red Raiders in New York City grew even more daunting.
Maybe that's exactly what Chris Beard's team needed.  After losing three-straight games in which Tech was the decided favorite, Beard was able to get back to his roots as the discounted, disrespected, feisty underdog.
Ironically, the Red Raiders managed to take down the nation's No. 1 team for the first time in program history on the day that ESPN, which aired Tech's upset live, ran an article on its website discussing why this year's version of the Red Raiders was overhyped.
"At Big 12 media day in Kansas City, Texas Tech's head coach admitted his team had endured some challenging moments in early practices following last year's run to the national title game," wrote Myron Medcalf.   "Still, Beard had won at every level and is known as a master at reloading, thanks in part to his ties to the junior college ranks. But we probably should have expected a bit less from a Texas Tech team that lost four starters, including lottery pick Jarrett Culver.

"Last year's team was praised for owning the best defense in America, but it also ended the year possessing one of the nation's most reliable offenses. The latter has become a concern for a Texas Tech team that has scored 61, 76 and 60 points during its current three-game losing streak. The Red Raiders do not own a win over a top-200 team on KenPom. Yes, the defense is still legit, but Beard's crew will need time to find any semblance of the cohesive offense that helped Texas Tech last season."
What made this game so unexpected, what was so unusual about the way the Red Raiders proved Medcalf and everyone else in the nation wrong was that they really never let Louisville even threaten the lead in the second half.   After leading 31-28 at the half, Tech would never trail in the second 20 minutes pushing its lead to eleven points by the 11:18 mark and kept at least a 4-point edge the remainder of the way.
This wasn't a fluke or the result of a hot shooting night.  This was a thorough win in which Tech choked out a very good Louisville team.
"We've lost three one-possession games," Beard said, "but we've just stayed the course. I told the guys let's get back in a close game tonight and we'll find a way to win. It ended up not being as close as we maybe had thought. Happy for our players, proud of them."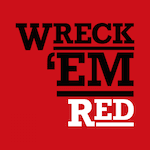 So let's go inside this fantastic win, one that we will be pointing back to when Selection Sunday rolls around and one that we may mark as the moment when this young Red Raider squad grew up.  By looking inside the box score, we can understand how Chris Beard and his team surprised the college basketball world again.