Texas Tech basketball: Turning points in Red Raiders upset of No. 1 Cardinals
In the Texas Tech basketball team's victory over No. 1 Louisville Tuesday night, these turning points helped the Red Raiders end their 3-game losing streak.
Losing streaks have been rare for the Texas Tech basketball program during the Chris Beard era.  That's why this year's early-season 3-game slide was so unnerving to Red Raider fans.  Our heads told us that this season might be a bumpy ride, especially early, given that this team has 10 newcomers and seven freshmen but our hearts still couldn't stand the thought of a pre-Big 12 losing streak.
After all, this program has been rather adept at avoiding lengthy slides in recent years, especially in November and December.  In fact, this was the first time since the 2013-14 season that Tech had lost consecutive games before the start of league play.  That year, losses to LSU and at Arizona State in mid-December put an ill taste in Red Raider fans' mouths just prior to the Big 12 season.
But to find a 3-game losing streak in the first two months of the season, we have to go back another season to 2012-13.  That year was infamous because of the resignation of head coach Billie Gillespie just weeks before the start of the season.
Chris Walker stepped in to lead the program to an 11-20 overall record, which was actually respectable given the turmoil the program endured during training camp. And the Red Raiders actually got off to a 5-1 start with the only loss coming at No. 9 Arizona.
But when the Christmas lights went up and jingle bells were in the air, the first of that season's many skids hit.  Walker saw his squad drop a home game to McNeese State 80-75, which is inexcusable regardless of the state of the program.  Tech then took another home loss, 66-62 at the hands of Alabama before dropping its third-straight home game when Arizona State delivered at 77-62 beating inside the U.S.A.
Later that year, Tech would endure a four-game and a nine-game losing streak on its way to a conference mark of 3-15.  Thankfully, those days are behind us so we didn't expect to have to live through an early-season slide to unranked teams again with Chris Beard at the helm.
Even with leading scorer Jahmi'us Ramsey out, there was an expectation that this team should be able to beat average Power 5 teams like Iowa, Creighton, and DePaul.  After all, none of those teams have proven to be juggernauts since beating Tech.
Iowa has lost two of its four games since taking down the Red Raiders on Thanksgiving.  They fell to San Diego State the following night and were pummeled by No. 4 Michigan on Friday.
Creighton has not lost since beating Tech with wins over Oral Roberts and a 4-5 Nebraska team, which is nothing to write home about.  Meanwhile, in their game following an emotional OT win over Tech, DePaul was taken down at home by Buffalo.   In that 74-69 game, former Texas Tech forward Josh Mballa grabbed 14 rebounds in 22 minutes of action to help his team move to 6-3 on the year.
With such an uninspiring run of games still fresh in our minds and the sight of Ramsey still in street clothes Tuesday night, Red Raider fans were looking right in the face of a 4-game losing streak, which would have surpassed any skid from a year ago.  But we should have known, Beard is at his best when he is counted out.
In an inspiring game that saw Avery Benson and Andre Savrasov score 13 points off the bench to essentially neutralize Louisville's star tandem of Jordan Nwora and Dwayne Sutton (18 combined points), the Red Raiders executed assistant coach Mark Adams' defensive game plan to near perfection and put the nation's No.1 team in a meat grinder the way the 2018-19 Red Raiders did to so many high-quality opponents in February and March.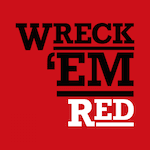 Finally, this year's version of Tech basketball figured out how to make key plays in key moments, something that had been a problem in the 3-game losing streak.  So let's continue to revel in the joy of this game by looking at some key turning points in the Red Raiders' first-ever win over a team that sat atop the national polls.