Texas Tech basketball: Another single-season record could fall in 2019
One year after Tariq Owens set the single-season Texas Tech basketball program record for blocks, Chris Clarke is on pace to challenge the program's all-time single-season assist mark.
Grad transfers have become as integral to the Texas Tech basketball program as any other players on the roster during the Chris Beard era. And for the second-straight year, one could challenge a single-season program record.
Chris Clarke is on pace to threaten the program record for assists in a season, which is 212. That mark was set in 2008-09 by then-sophomore point guard John Roberson.
What's more, Roberson's 190 assists the following season are the second-most by a Red Raider in a season. But since then, Jarrett Culver is the only player in program history to crack the top 10 with his 142 assists last year. Matt Mooney's 126 assists from a year ago are 15th all-time.
Right now, Clarke is averaging 5.9 helpers per game, third in the Big 12. That's behind the pace that Roberson had as a sophomore, 6.42.
But what might help Clarke overtake Roberson late in the year is a deep run in March. Not reaching the postseason in 2009, Tech played only 33 games when Roberson set the record.
However, last year, Tech had 38 games thanks to an appearance in the National Title Game. Though such a run this year would be unlikely, deeper runs in the Big 12 and NCAA Tournaments could give Clarke just enough games to set the record.
If he maintains his current pace, he would need 36 games to tie Roberson. That would mean five games combined in the two postseason tournaments.
Clarke is almost doubling his career-best of 3.3 assists per game, which he set at Virginia Tech in 2016-17. That increase comes despite the fact that he's playing half a minute less per game thus far than he did in his sophomore season.
He's already had a game of 11 assists against Houston Baptist this year. That's enough to tie for 9th in a single game in Tech history and just three shy of Stan Bonewitz' record of 14 in 1996 against Fresno State.
In addition, Clarke set his teammates up for scores nine times against Creighton and eight times in the season-opener against Illinois. The most Roberson ever had in a game was 13 in a 2009 game at Texas A&M. He also two 12-assist games in his career.
But do we want Clarke to break this record? It is fair to ask only because he needs to score as well as set up his fellow Red Raiders. This offense needs some steady scoring, especially off the bench, which is where Clarke will start games once freshman Jahmi'us Ramsey returns from a hamstring injury.
He began this season by attempting only eight total shots in the first four games. But since then, the pass-first guard has been more assertive with his looks and he's attempted at least five shots in every contest.
It feels odd to be frustrated when a player doesn't shoot enough. We often get angry when one hogs the ball and fires so many shots that it hurts his team but it's unusual to find ourselves trying to figure out why Clarke seems intent on only scoring when he absolutely has to.
In addition to his assist game, he's also proven to be a prolific rebounder. Despite being 6-foot-6, the senior is pulling down 8.8 rebounds a night, fourth-best in the conference.
That's over two rebounds per game more than last year's team leader, Culver managed. Clarke is a master at positioning himself and tracking the ball while his broad and sturdy build allows him to battle larger players for boards.
Should Clarke set the program record for assists in a season, he would be the second-straight grad transfer to set a new program record. With 92 blocks last year, Tariq Owens broke Tony Battie's 22-year-old mark of 71. In fact, he shattered that mark before the end of the regular season so anything he did in the postseason was just setting the bar higher.
Clarke likely isn't going to shatter Roberson's record. But he is on pace to come within shouting distance.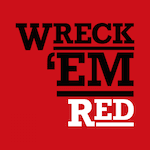 Keep an eye on this stat as the season progresses but know that Clarke has to score the ball this year as well as pass it. In fact, if he does break this record, it might actually be a negative for this year's team.