Texas Tech football all-decade team: The receivers
Today we take our look at the Texas Tech football program's all-decade receiving corps, which features some of the best players in program history.
There's no program in the nation that has gotten more mileage out of its wide receivers than the Texas Tech football program.  In fact, Red Raider fans like to believe that our program is "Wide Receiver U".
For the decade, the Red Raiders have had seven players earn first or second-team All-Big 12 honors at receiver.  That's tied with the offensive line for the most of any position group.
That's why the 2019 season was so frustrating.  There just was not the typical talent level at those positions this fall as Tech had a truly pedestrian passing game by this program's standards.
This year's leading receiver in terms of yards was redshirt freshman Erik Ezukanma, who had just 665 yards on the season.  The leader in terms of receptions was grad transfer R.J. Turner who came up with a mere 45 catches.
That was quite a shock for a program coming off back-to-back seasons with 1,400-yard receivers.  In fact, there were only three other seasons this decade (2010, 2011, 2014) in which a Tech receiver failed to top 1,000 yards and in those years, the team's leading receiver managed to at least 800 yards.  Additionally, prior to this year, the fewest catches the leading Red Raider pass-catcher accumulated was in 2014 when Jakeem Grant topped the team with 67 catches.
Consider that in this decade alone, 19 players surpassed Ezukanma's yardage output from this year and it underscores just how forgettable the 2019 receivers were.  And in every year but 2014, Ezukanma's 664 yards would not have even been good enough for second-most on the team.
One might assume that this drop off was a result of a change in philosophy in the Red Raider offense. but that's not necessarily the case.  This fall, Tech put the ball in the air 530 times, which was only 50 times fewer than last fall.  What's more, Tech's pass play percentage was 56.8% in 2019 which is essentially the same as the 57% pass percentage a season ago.
The difference came in yards per catch.  This year's team averaged only 11.3 yards per completion, which was down from 11.7 last year.  That may not seem like a huge difference but over the course of the season, 0.4 yards per catch adds up.
Tech also struggled to come up with as many big plays through the air.  This year, the Red Raiders managed just 19 passing plays of 30 yards or more.  Last year's team had 29.
But that really shouldn't be a surprise given what we saw unfold.  The receiving corps was one of this team's biggest questions as we headed into fall camp and the only somewhat proven player was T.J. Vasher, who disappointed in his junior year with just 515 yards on 42 catches.  That was the lowest output of his career, and his two-games missed because of a team suspension certainly didn't help matters.
With Vasher disappointing both on and off the field, Tech had to rely on a redshirt freshman and a grad transfer to carry the load and that's not a recipe most of the successful teams are following.  In addition, Tech had a converted H-back/wide receiver with only 3 career catches, Donta Thompson, to be the primary tight end.  Even more unusual was the fact that two of the three inside receiving options, Dalton Rigdon and Xavier White were at one time walk-on players.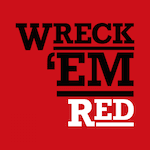 It was a rather spare collection of talent given what we've seen from Tech football over the last twenty years. That's why you won't find any of this year's receivers on our all-decade team.  But you will find some of the best to ever play for Texas Tech including perhaps the most unlikely player ever to end his career as any program's all-time leader in receiving yards.