Texas Tech sports: Bold predictions for the Red Raiders in the 2020s
As we begin a new decade, let's take a look at what might happen for the Texas Tech athletic department in the 2020s.
We are now in the decade of the 2020s, a time period that still sounds like it belongs more in a science-fiction movie than in our every-day reality.  The start of a new decade is a time for all sports fans to reset and look towards new hopes and that's certainly the case for Texas Tech fans.
This will be the decade when Texas Tech University turns 100 years old in 2023 and when we celebrate the 100th season of Texas Tech athletics in 2025.
This could also be a decade in which the business of sports changes the college athletics landscape so greatly that what we see on campus looks more like professional sports than the college sports our fathers and grandfathers grew up with.  It will all revolve around money.
We already know that beginning in 2023, the NCAA will allow college athletes to be financially compensated for the use of their likenesses.  That will almost certainly be a game-changer in the way schools recruit athletes.
It isn't hard to imagine corporations and boosters playing a much larger and more out-front role in the talent-acquisition game as they try to lure the nation's top talent to their campus of choice.  One must also wonder if that would help keep some players in school for an extra year or two.
Imagine that players such as former Texas Tech football stars Keke Coutee and Antoine Wesley were being paid by local businesses for their endorsements as well as being compensated for their likeness in such things as the NCAA college football video game when they were at Tech.  It isn't tough to imagine that both would have considered spending their senior season in Lubbock rather than heading to the NFL as underclassmen, especially a player like Wesley who declared for the draft despite being a fringe prospect and who would eventually go undrafted.
Likewise, hundreds of college basketball players in the last 20 years have gone to the NBA before they were ready because of the need to help support their families.  Were those players making money to send home in college, perhaps they would have been more inclined to stay in school until they either graduated or were physically ready for the pro game.
That change will also give high school players that consider going overseas for a year to play a year of pro basketball before going into the draft an option that would allow them to remain in the U.S. but still be paid for playing.   Maybe a player like R.J. Hampton from Dallas, who decided to play professionally this year in New Zealand rather than go to college; would have spent a year in the NCAA if he could have been compensated for his talents.  He was reportedly down to Kansas, Texas Tech, and Kentucky before deciding to skip college.
Of course, many people also believe that the NBA will get rid of its one-and-done rule, which prevents players from entering the draft right out of high school, with its next collective bargaining agreement.  Some theorize that by the 2022 NBA Draft, players could be allowed to go straight from high school to The Association for the first time since 2005.
Obviously, that could have a huge impact on Chris Beard and the Texas Tech basketball program as the Red Raiders continue to recruit some of the highest-rated players in the nation.
Another revolution that is starting to feel inevitable is the streaming rights revolution.  We are already seeing streaming services like ESPN+ have exclusive rights to certain games, including two Texas Tech basketball games this season.  Thus, it isn't all that far-fetched to believe that in the next ten years, we might all be streaming more Texas Tech sporting events than watching them through traditional cable and satellite services.  It would also be wise for Tech to figure out a way to stream all of its lower-tier sporting events like volleyball, softball, and all of the baseball games that aren't televised elsewhere.
There's no question that money will continue to flow into the pockets of the NCAA and its member institutions at an astounding rate and whatever drives the most green into those pockets will be what wins out.  In 2019, the Big 12 paid out over $37 million to its members, so is it that out of the question to think that in the next ten years, conference payouts will rise to the $100 million level?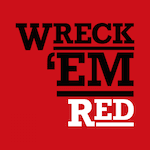 That's certainly a mind-blowing thought and there's no telling what else that we haven't even conceived of will rock the college sports landscape by 2030.  So with that in mind, let's look at what might also happen in Lubbock in this decade.  Here are our wild speculations about what the new decade will hold for Texas Tech athletics.