Texas Tech football: Utah State LB Christian LaValle transferring to Red Raiders
The Texas Tech football team has added Utah State transfer Christian LaValle from Utah State, a player known for his physicality.
For the second-straight year, Matt Wells' Texas Tech football program is bringing a player from Wells' old stomping grounds to Lubbock. After adding graduate transfer safety Ja'Marcus Ingram last August, the Red Raiders are now going to welcome linebacker Christian LaVelle according to Inside the Red Raiders.
The 5-foot-11, 240-pounder from Mission Viejo, California signed with Utah State in the class of 2019. At that time, he was the No. 44 inside linebacker in the nation and No. 98 player in California according to 247Sports. Thus, he will have to sit out the 2020 season as an undergraduate transfer unless he petitions the NCAA for an eligibility waiver.
Interestingly, this fall, he was asked to play defensive tackle for the Aggies, which is not at all his natural position. Thus, one can speculate that he is coming to Tech in order to have an opportunity to play linebacker again.
According to the Utah State website, LaVelle saw action in four games this year recording no stats. Thus, he will have the right to use this fall as a redshirt season meaning that when he is eligible to play for the Red Raiders, he will still have three years of eligibility remaining.
Texas Tech fans shouldn't just chalk this player up as another player from a non-major conference who will only add depth. After all, he was at one time an Arizona State commit and was one of the top players in California during his high school career.
Trying to piece together LaValle's journey from high school to Tech takes a bit of detective work because it has been a rather winding road. From what I can gather, he was a high school senior in 2017 when he earned first-team All-State honors.
He signed with the Arizona Sun Devils as part of the 2018 class but never official showed up in Tempe making me think he was likely a gray shirt signee (one who signs in a particular class with the intention of showing up a semester later to help the program balance the scholarship numbers). In October of 2018, he decomitted from ASU and pledged to the Aggies (of Utah State).
After a year in Logan, he's now at Tech where a familiar face will be waiting for him. One of his primary recruiters at both ASU and Utah State was Keith Patterson, now the Texas Tech defensive coordinator.
Patterson was the Arizona State LB coach for most of LaValle's recruitment and was a key in getting him to Logan, Utah in 2018. Now, he's convinced the intriguing player to call Lubbock home.
In the above video posted by Arizona State when LaValle signed in 2018, you can see he's all over the field. One can't help but notice that because of his build and motor that he looks like a Zach Thomas starter kit.
It isn't to suggest that this is the next all-time great Red Raider LB to follow in Thomas' shoes. But he does look to fit the part of a Big 12 inside LB. In high school, he recorded over 100 tackles in each of his final three years while also playing tight end as well as participating in track and field as a discus thrower.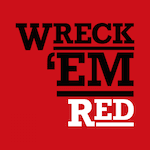 Power is the name of the game for LaValle. Thus, he could be a bruising run-stuffer in the middle of the Red Raider defense but we will have to wait at least a year before we get to see him in the Scarlet and Black.