Texas Tech basketball: How the Red Raiders were able to dominate OK State
Saturday in Lubbock, the Texas Tech basketball team dominated Oklahoma State in the Big 12 opener so let's look at the box score to see where the Red Raiders did their damage.
Any questions about whether or not Chris Beard could get his revamped team ready for Big 12 play were answered rather emphatically Saturday in Lubbock.  With eight players making their conference debut, the Texas Tech basketball team put forth a dominant 85-50 win against Oklahoma State to serve notice to the rest of the league that last year's regular-season title was no flash in the pan.
It was the Red Raiders' fourth win in the last five games in this series.  But it was only the second of those wins that came by more than five points.
The other came last season in Stillwater, a 78-50 victory.  And Saturday was a greater thumping than Tech has ever handed out to any Big 12 opponent to begin conference play.
It also marked the third-straight year that Chris Beard began league play with a win.  Last year, Tech opened the conference season with a 62-59 win at West Virginia, the program's first-ever triumphant trip to Morgantown.  The year prior, Tech opened league play at home by blowing out No. 18 Baylor 77-53.
"These games are so hard to win," Beard said. "I was trying to explain to these young guys in the locker room a few minutes ago that winning never gets old. You don't ever take it for granted and sometimes when things go your way and you have a big margin victory you kind of forget how hard it was to win this game.

"I want to wish OSU a lot of good fortune this season and we'll certainly see those guys down the road in Stillwater. I have a lot of respect for their team. I've been on both sides of games like this, sometimes it steamrolls but certainly, tonight was our night we were fortunate Oklahoma State missed some shots they normally make and we had some guys plays outstanding."
Four of Beard's starters had at least 12 points while the fifth, Kyler Edwards, had nine.  Jahmi'us Ramsey led the way with 18 while T.J. Holyfield had 17, Terrence Shannon Jr. had 13 and Davide Moretti added 12.
That's the type of balanced scoring that Red Raider fans have come to expect of this program.  Likewise, the defense we saw Saturday was up to the standards of Red Raider basketball.
Tech held OSU to 28% shooting overall, forced 14 turnovers, and blocked five shots.  It was clear that the start of Big 12 play brought out the best from a team that was far from locked in in the previous three home games since beating No. 1 Louisville in early December.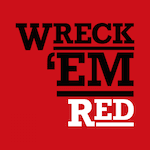 So let's go inside the box score and take a look at where the Red Raiders really put this game away.  And we will start with the job Tech did on OSU's catalyst.