Texas Tech basketball: Red Raiders that have to step up vs. West Virginia
If the Texas Tech basketball team is going to pick up its second win of the Big 12 season today in Morgantown against West Virginia, these players have to take their game to a new level.
Love him or hate him, you can't deny that Bob Huggins makes life in the Big 12 more interesting.  Today, Texas Tech basketball fans get their first reminder of how entertainingly infuriating the 66-year old can be as he scowls at the court from his perch atop his court-side stool in an attempt to intimidate both his team and the officials into bending to his will.
Before we discuss what makes Huggins so dislikeable, let's first give the devil his due.  He's proven to be a fantastic college coach.  The 2015 Big 12 Coach of the Year and the Conference USA Coach of the Decade for his work at Cincinnatti in the 1990s, the Morgantown native has an overall record of 861-373 in 38 years on the bench.
Eighth all-time in Division-I wins, he's the 5th-winningest active head coach in the game.  And what's been impressive is that he's won big at numerous stops including 399 wins at Cincinnatti and 273 at West Virginia.  He even went 23-12 in his lone season at Kansas State (2006-2007).
But for all his success, he's proved to be a curmudgeon and a lightning rod for controversy.
His Cincinnatti teams reveled in the role of the bullies on the court and became the closest college hoops has seen to the old Detroit Pistons "Bad Boys" of the 1980s since the halcyon days of the Big East when fights were as common as free throws in the nation's most contentious conference.  And in the 1990s, his program had such low graduation rates that it was put on probation in 1998 leading to the eventual loss of three scholarships.
Ultimately, it was those poor academic standards that caused him to lose his job with the Bearcats in 2005.  Despite taking Cincinnatti to a No. 1 in-season ranking and a Final Four during his tenure, he was forced to resign because of his inability to get along with his school president and because of the academic failures of his players.
Part of his downfall in Cincy included pleading "no contest" to a DUI charge in 2004.  That was supposedly a huge factor in his ultimate departure from the university and a huge blot on his image.
It was indeed a wild environment under Huggins with the Bearcats.  According to Collegehoops.net's Kevin McNeil:
"In all, according to the University of Cincinnati, there had been no less than 21 players under Coach Huggins who have had, to use their term, "significant encounters with law enforcement."  These "encounters" included arrests for domestic violence, rape and DUI.  One guy even punched a police horse.   Another, Donald Little, taped his roommate to a lawn chair, threw weights at his head, clubbed him with a whiskey bottle and burned him with a heated coat hanger.  He then stabbed him for good measure."
Though he's kept his nose cleaner in Morgantown, likely mellowed by the withering effects of time on a man's bluster, he's remained fascinating and newsworthy.  There was the time in 2017 when his defibrillator, implanted in his heart following a heart attack in 2002, went off during a game causing him to drop to his knees on the sidelines.  Of course, he stayed around to coach the rest of the game after receiving a once-over from team trainers.
In 2015, even his daughters were part of a controversy.  When cheering on WVU in a game against Maryland, his two daughters, Jacque and Jenna, both tweeted comments accusing Maryland's Dez Wells of being a "rapist" after he was accused but never charged of sexual assault in 2012.  They were also accused by those present of hurling similar insults towards Wells from the stands.
"Each time I see Bob Huggins, I see all the contradictions of big-time college basketball," wrote legendary columnist William C. Rhoden of The New York Times in 2008. "I see second and third chances for a coach who has had his share of controversy. I also see an industry that often looks the other way if an extraordinary coach like Huggins can win games, bringing fame and glory to a thirsty university."
Of course, Texas Tech basketball is no stranger to controversial figures, namely Bob Knight, who was one of the mentors that shaped current head coach Chris Beard into one of the game's fastest-rising coaches.  Hopefully, Beard can emulate Huggins' long-term success on the court (he's already matched him in Final Four appearances) without the distractions of all the off-court antics.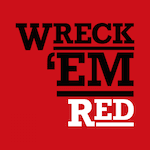 What's more, we hope that Beard can move to 5-4 in his Red Raider career against Huggins today thus giving Red Raider fans the satisfaction of knowing that our team has caused more consternation for one of the most loveably hateable personalities in the game.  But for that to happen, these Red Raiders must take their games to a new level this evening.