Texas Tech basketball: WVU game preview and broadcast info
Today, the No. 22 Texas Tech basketball team faces No. 17 West Virginia in Morgantown so here's a preview and the broadcast info.
One of the Big 12's newest rivalries resumes today when Chris Beard and the Texas Tech basketball program exchange pleasantries with Bob Huggins and West Virginia. As is customary in this conference, expect yet another defensive cage match.
WVU is currently third in the nation in the KenPom.com adjusted defense rating, which measures the number of points a team allows per 100 possessions. The Mountaineers are giving up just 84.4 p.p.g., which is a tick better than the Red Raiders who are at No. 13 at 88 p.p.g.
Because they came into the Big 12 during the dark ages of Red Raider basketball, WVU has dominated this series with a 13-5 overall record. But in the Chris Beard era, these programs have split eight meetings.
That included last year when Tech went 2-1 by sweeping the regular-season series and then falling to WVU in the second round of the Big 12 Tournament. Interestingly, this is a series that has been defined by high stakes from its inception.
When the schools first me in 2005, it was in the Sweet 16 in Albuquerque. Of course, WVU won 65-60 that night.
Another notable showdown came in 2018 in Lubbock when the No. 8 Red Raiders toppled No. 2 West Virginia 72-71. It was the first-ever top-10 matchup inside the U.S.A.
Now, these teams meet again as ranked teams and though it is just two games into the conference season, this feels like a significant game. That's because both teams sit at 1-1 meaning one will end today with a losing conference record.
The Mountaineers will have a significant home-court advantage as they have won 87 of their last 126 conference games at the WVU Coliseum. Additionally, they are 150-42 at the WVU Coliseum under Bob Huggins, including a 73-35 mark in league games.
Coming off a game when the Red Raiders struggle offensively scoring just 52 points against Baylor, Tech needs to try to get to at least 70 points this evening. The reason is that the Mountaineers have won 93 of their last 101 games when holding opponents to 69 points or less and they have won 103 of the last 112 and 159 of the last 178 games when holding opponents to less than 69 points.
This is also an interesting matchup because both teams are extremely young. Red Raider fans are well-aware that their team features six freshmen and only two seniors, both grad transfers.
But they may not realize that WVU has only three seniors on its roster and one, Logan Routt, plays the second-fewest minutes per game of any player on their roster, 7.8. What's more, Huggins starts only one senior along with three sophomores and a freshman.
One difference between these teams is where they get their offense. While the only two players on the WVU roster averaging over 10 points per game are their two starting post players, Tech is getting double-digit scoring from four different guards or wings (Jahmi'us Ramsey, Davide Moretti, Terrence Shannon, and Kyler Edwards.
Those players have to shoot better as a group than they did on Tuesday against Baylor. Finding tons of offense at the rim could be tough given WVU's size so if Tech has a shot at winning, it feels like the 3-pointers have to fall.
The ESPN.com matchup predictor gives WVU a 75.2% chance at winning this game and this is one that most people believe Tech will have a hard time pulling out. Of course, that's when it feels like Chris Beard is at his best.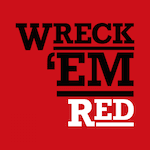 Broadcast Info
Tipoff: 5 pm CST
TELEVISION • ESPN Rich Hollenberg • Play-by-Play Fran Fraschilla • Analyst
RADIO • Double T 97.3 FM • Tune-In Radio App Geoff Haxton • Play-by-Play/Chris Level • Analyst