Texas Tech basketball: Fans will have to pay extra to see KSU game
If Texas Tech basketball fans want to watch Tuesday night's game at Kansas State, they will have to subscribe to ESPN+.
Tonight, Texas Tech basketball fans will have to shell out a little extra money if they want to see the Red Raiders take on Kansas State in Manhattan. That's because this is one of two games that will be broadcast on ESPN+, the new streaming service from the self-proclaimed "worldwide leader in sports".
You can sign up here for a $4.99 monthly fee. For that price, you will also get to see the January 29th game against West Virginia in Lubbock, which is one that will be critical for this year's team.
This is where the world of college sports broadcasting is headed. Don't be surprised if at least one Texas Tech football game winds up on this platform next year and when the Big 12 renegotiates its media rights deal (which expires in 2025), there's a reason to believe that streaming services will be a huge player in how we consume our Red Raider sports.
As for the game itself, the Red Raiders need to put an end to their recent woes and get back to their winning ways if they have any hope of being a factor in the Big 12 race. That's because this KSU team is not very good.
The Wildcats are just 7-8 on the year and 0-3 in Big 12 play. What's more, their three conference losses have been at the hands of OU, Texas, and TCU, none of which are expected to be serious Big 12 contenders.
This is an interesting matchup of head coaches because one, Chris Beard, is one of the hottest names in the industry while the other, Bruce Weber, is rather underappreciated despite some impressive success at Kansas State. Tech fans aren't likely to be surprised by the fact that Beard's .743 winning percentage is 8th-best among active coaches.
But do many people outside of the KSU fan base realize that the 63-year-old Weber had gone an impressive 472-244 (.664) in 20 seasons as a head coach prior to the current campaign?
In charge in Manhattan since the 2012-13 season, he's had just one losing season with the Wildcats (15-17 in 2014-15). What's more, he's produced five 20-win seasons, taken his current program to the NCAA Tournament five times, and reached the 2018 Elite Eight.
Still, there are some KSU fans that want a change. Maybe it is because an unassuming silver-haired coach who is rather generic in looks and personality doesn't move the needle in the modern age of college sports when young and brash are qualities that carry more weight than experienced and steady.
As recently as 2016-17, Weber was thought to be in severe danger of losing his job. But that year, he did enough in a 21-14 season to get his team to the Big Dance and despite a first-round exit, he was retained, much to the displeasure of many Wildcat fans.
The next year, his team came within one game of the Final Four before being stunned by Loyola of Chicago. Of course, last year his program matched Tech's 14-4 Big 12 mark to split the regular-season conference title. Being one of the two teams to knock in-state rival Kansas from their 14-year perch atop the Big 12 had to be one of the best ways imaginable for Weber to assuage his constituency.
But a 70-64 loss to UC-Irvine in the Round of 64 quickly nullified much of the good vibes that he and his program had been riding. Of course, Weber's team was rather hindered by the loss of star forward Dean Wade, who did not play in that contest due to a foot injury.
Of course, Wildcat fans likely won't extend Weber all that much leniency for that disappointment, especially after seeing their Big 12 co-champs make a run to the National Title Game. And consider how hot the water will be at KSU if Tech prevails tonight.
If the 0-3 in Big 12 play Wildcats lose this game, they will then be 0-4 headed into consecutive games against West Virginia and at Kansas. Certainly, an 0-6 start to conference play would not sit well with the fans of the Power Cats.
That's why this contest is going to be rather tricky for the Red Raiders. Not that any team coming off back-to-back losses can afford to overlook any opponent, but tonight the Red Raiders must take their game to another level over what we've seen in the last seven days if they want to get back on track and continue Bruce Weber's troubles.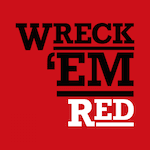 Broadcast info
Tipoff: 7 pm CST
TELEVISION • ESPN+ Mark Neely • Play-by-Play Lance Blanks • Analyst
RADIO • Double T 97.3 FM • Tune-In Radio App Geoff Haxton • Play-by-Play/Chris Level • Analyst