Texas Tech basketball: Kyler Edwards' career night leads to victory over KSU
In the Texas Tech basketball team's 77-63 victory at Kansas State on Tuesday night, sophomore Kyler Edwards was the hero with a career-high 24 points.
With 10:51 left to play in Tuesday night's game, the Texas Tech basketball team found itself in an unexpected battle against last-place Kansas State. After leading by as many as 15 points in the first half, the Red Raiders had seen Kansas State claw all the way back to trail just 49-48 after taking a brief 46-45 lead.
That's when freshman guard Kevin McCullar Jr. made his first signature play as a Red Raider. In a true coming of age moment, the lanky 6-foot-4 San Antonio native grabbed an offensive board off of a Davide Moretti 3-point miss, muscled the ball back up through traffic, hit the bucket and drew the foul. After he converted the old-school 3-point play, his team has some breathing room at 52-48.
Kyler Edwards took care of the rest. As part of his career-high 24-point effort, the sophomore had 11 points in the second half, many coming down the stretch as the Red Raiders held on for a 77-63 win that was not necessarily aesthetically pleasing but which was rather satisfying given that it put an end to the Red Raiders' 2-game losing streak.
Despite turning the ball over 16 times, the No. 23 Red Raiders moved to 11-5 on the year and 2-2 in conference play thanks to Edwards' heroics. All of his second-half points came in the final 10:22 of the game beginning with a 3-point bucket to put his team up 55-48 on the possession immediately after McCullar's grown-man 3-point play.
Tech fans had been waiting all season to see the team's second-leading returning scorer from last year take over a game the way he did in Manhattan. Shooting 9-14 from the floor and 3-4 from 3-point range, Edwards was efficient, poised, and clutch in a way that he hasn't been yet this year.
His breakout game marked just the third time that he's hit three shots from behind the arc this season. What's more, it was by far his best shooting night (75%) from deep thus far in 2019-20.
That's an area of the game that has left him searching for answers as he entered the night just a 23.7% shooter from 3-point range after he shot 44.9% as a freshman. But we got an early indication that this might be a nice night for Edwards when he opened the game with the first six points for either team thanks to a 3-pointer and three free-throws after being fouled on another long-range attempt.
"Kyler's one of our best 3-point shooters," Texas Tech head coach Chris Beard told the ESPN+ broadcast team after the game. "I understand what what stat sheet says right now as Kyler does. But sometimes you just gotta say that those numbers don't mean anything. He's got a stroke…I believe in his shot. So proud of him tonight, playing with big courage and he led our team in a lot of ways."
Meanwhile, McCullar was a capable Robin to Edwards' Batman heroics. Coming off the bench with 10 points on 3-6 shooting and 4-7 at the foul line, he also had five rebounds (four on the offensive end), three steals, and an assist on a night when his efforts were essential.
McCullar had to take up the slack when fellow freshman Terrence Shannon Jr. was unable to play for the second-straight game because of stiffness in his back. What's more, starting guard Jahmi'us Ramsey fouled out with just under four minutes to play meaning that McCullar had to be part of the lineup that closed out the win.
"The player of the game for us is [McCullar]," Beard said. "This is a guy who's overcome a lot of adversity. He's had two injuries, didn't play his last year in high school. He's just plugged away, plugged away, and he's getting more opportunity as he's earned it and tonight, I thought he was the player of the game."
For the Wildcats, the player of the game was without question Cartier Diarra. With 19 points, the junior guard gave the Red Raiders fits because of his ability to create his own offense off the dribble.
Shooting 7-11 overall, he was 2-4 from 3-point range, something he's not known for. The problem for head coach Bruce Weber was the fact that his team was just 4-14 as a whole from deep and no player other than Diarra hit more than one 3.
But while the deep ball was not kind to KSU, they made up for it at the free-throw line. Coming into the game as the third-worst free-throw shooting team in the Big 12 during conference play at just 56.8%, the home team hit 25-34 (75%) at the line on Tuesday night and that was where they did much of their damage during the first ten minutes of the second half when they erased a 7-point halftime deficit.
However, Edwards would not let his team lose. With Beard going to a simple pick-and-roll offense featuring him and T.J. Holyfield down the stretch, he couldn't be stopped from getting whatever he wanted off the dribble.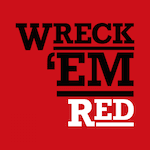 It was just Tech's second win in the program's last ten trips to Manhattan. The Red Raiders now return to Lubbock to take on Iowa State on Saturday and after grinding out a tough win against the Wildcats, this young team will be much more battle-tested than they were the last time we saw them at the U.S.A.