Texas Tech basketball: Red Raiders must become efficient on offense
For the Texas Tech basketball team to stop its losing streak, Chris Beard's team needs to be more efficient on the offensive end.
Big 12 play is in full swing now and Texas Tech got a dose of how tough the conference will be this year after a brutal week going 0-2 against No. 2 Baylor and No.12 West Virginia. Both games had one clear flaw, a lack of offensive production.
It wasn't a shocker that Texas Tech had trouble putting the ball in the basket going up against two top 20 defenses. Baylor ranks 6th and WVU 14th respectively in points allowed. Thus, Coach Beard needs to figure out a way to get the offense going by creating offense for more than just one player per game.
Only one Red Raider scored in double figures vs WVU, Davide Moretti, who finished the game with16 points on 6/12 shooting. In the Baylor game, there were two players in double figures with Jahmi'us Ramsey getting 20 on 7/17 shooting and Kyler Edwards 10 points on 4/10 shooting. The problem was that both Ramsey and Edwards were inefficient in their performances. In fact, Texas Tech as a whole is a very inefficient team.
The Tech offense as a whole ranks 93rd nationally in scoring and offensive efficiency. Too often, the offense has been a one-man show with whoever gets hot being who they feed. That usually ends up being Ramsey or Moretti. Edwards will have some night where he scores but he's incredibly inefficient.
To help this problem, the Red Raiders need to find a way to get some easy baskets. They had just two fast-break points against both the Mountaineers and Bears, some of that due to turnovers or failures to convert on 2-on-1 opportunities. There were two such instances against Baylor in the first half and each time, Tech turned the ball over.
When you watch the Red Raiders every shot seems to be a tough shot. It seems like when all else fails, the plan usually boils down to Ramsey taking someone off the dribble and taking a pull up three or step back.
One problem is that T.J Holyfield post-ups are hard to watch since he's always smaller than the defender. Meanwhile, Edwards gets good looks but the shots just don't fall for him. Moretti may be the best catch and shoot guy in the country but unfortunately, he can't create his own shot. Now they may again be with their top athlete and slasher, Terrence Shannon Jr., who is a game-time decision Tuesday night with a back strain.
Texas Tech has the athletes to be running up the court. It would behoove them to increase their pace of play as they are just 122nd in possessions per game.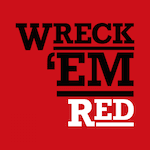 They need to get more fast break points and figure out a way to get Edwards out of his funk. Pushing the tempo and generating easy baskets could be the best way to do that. Ultimately, conference play is going to be a dogfight every game if the Red Raiders can't get the offense going. Let's see if they try to press the issue tonight against Kansas State.