Texas Tech basketball: Each 2020 Red Raider signee nominated for McDonald's game
The nominations for the 2020 McDonald's High School All-American Game have been released and all three of the Texas Tech basketball program's signees are included.
For the last 42 years, the McDonald's All-American Game has been the premier showcase of high school basketball in the nation. But never has the Texas Tech basketball program seen one of its signees participate in the event.
That could change this year because all three of the players that Texas Tech has signed in the current class have been nominated for inclusion in this year's game, which will be held in Houston on April 1st. But that does not guarantee that any will be selected because the list of nominations is expansive and includes players from almost every state in the nation.
How the rosters are selected is a rather convoluted process and one that has come under some criticism in recent years. Many feel that the participants in this game are mostly picked for political reasons as high school coaches and programs, as well as those on the club team circuit, try to influence the process in order to ensure that they have as many McDonald's All-Americans on their resumes as possible.
The website Statelinesportsnetwork.com recently tried to sort out the official process and in their article, they included information from the McDonald's Game representatives. Even so, the process seems a bit murky.
"We do accept all eligible nominees that high school coaches/athletic directors submit," the McDonald's selection committee said in an email to Stateline Sports. "The nominees represent the good in high school basketball. It is an honor for these student-athletes to be considered deserving and worthy by their high school coaches who have worked with them during their high school careers.

"We list the nominees on our website because if a coach feels that they have a candidate worthy of a nomination and takes the time to submit that nomination we should recognize that player for their hard work and loyalty to their high school programs. It may not be a big deal to some people but is a complement and big deal to the nominee that their high school coach or athletic department think that highly of them as a person and student-athlete."
Thus, we can see that the nomination process is rather all-encompassing. However, all three Red Raider signees are worthy of serious consideration.
It would seem like forward Chibuzo Agbo Jr. (who is mistakenly listed on the nomination document linked above as "Chibuzo Adonis", which sounds like a character from one of the Rocky movies) would be the longest shot. First of all, the San Diego native is just the No. 120 player in the nation according to 247Sports.com and second, he comes from California, which is one of the most crowded states in terms of high-end basketball prospects.
However, it would not be a surprise to see either Nimari Burnett or Micah Peavy make the cut for the West roster. In fact, NBAdraftroom.com predicts Burnett will make the squad while Peavy is on the bubble.
Burnett is a 5-star player and the No. 24 player in the nation. He currently plays for Prolific Prep in San Francisco, which is the No. 2 team in the nation.
Meanwhile, Peavy is the No. 43 player in the nation and a 4-star prospect. He is starring for Duncanville, High School, the defending Class 6-A Texas state champions.
Of course, last year, he was teammates with current Red Raider Jahmi'us Ramsey. The fact that Ramsey was not selected as a McDonald's All-American despite being the No. 32 player in the nation tells us two things: first, it is very tough for even top players to make these McDonald's rosters and second, public school players often face an uphill battle over private school players who play on super teams because the public school players don't get as much national publicity.
The next step in the process is that the McDonald's selection committee will trim this list to 100 players. Then a vote will cut the nominees to 50 via a confidential balloting process. That balloting process is then repeated to cut the list to 30 and then finally to the 24 players who participate in the game.
In the end, Texas Tech basketball fans shouldn't fret over whether or not any of this year's signees are on the court in Houston on April 1. What's important is that the level of talent that continues to come into the program is steadily on the rise.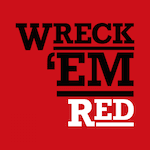 Just remember that until the Chris Beard era, the thought of having even one Red Raider signee merely nominated for this game would have been a mind-blowing development. Now, we are swimming in the deepest waters possible on the recruiting trail. While it is a nice bragging point for schools to be able to say that they have landed a McDonald's All-American or two, what really matters is that Beard is able to get players at or near that level to come to Lubbock.