Texas Tech basketball: Jahmi'us Ramsey must be more than just a 3-point artist
As he continues his first run through the Big 12, freshman Jahmi'us Ramsey has to be more than a 3-point shooter for the Texas Tech basketball team to achieve its goals.
It isn't hard to understand why freshman Jahmi'us Ramsey has been one of the most talked-about and analyzed members of the Texas Tech basketball team this year. After all, until 5-star 2020 signee Nimari Burnett suits up for the Red Raiders next season, Ramsey will remain the highest-rated player to ever lace 'em up for Texas Tech.
But what has been surprising is that he's not been the type of player under Chris Beard that we thought he would be. On one hand, he's been as advertised in that he's proven to be a prolific scorer. He leads the Red Raiders in scoring at 16.3 points per game, which is fifth in the Big 12.
It's in how he's gone about racking up the majority of those points that's taken us off guard. Shooting 44.8% from 3-point range, the 6-foot-4 guard has used his outside shot as his primary weapon at the college level.
That's not something we expected to see. In fact, scouting reports on the Duncanville product specifically mentioned his jump shot as an area that he needed to improve.
For instance, 247Sports' Brian Snow wrote, "[Ramsey] Is a scoring combo guard with the ability to make others better. Ball handling allows him to play on or off the ball. Has to continue to improve as an outside jump shooter, but the tools are there for him to be a high-level scorer at the college level. In order to go from good college player to NBA prospect, will need to become a more consistent shooter. If he does that, he should get a great shot to make a roster." (emphasis added)
Surprisingly, through the first 12 games of his Red Raider career, it isn't his shooting that needs to improve. Rather, it is his ability to finish at the rim.
If anything, he's been too reliant on the 3-ball for his offense. Of the 195 total points he's scored this year, 90 have come via the 3-pointer. That's 46.1%. When you also consider that 11.7% of his offensive output has come at the line, you see that only 42.2% of his scoring has come as a result of 2-point baskets.
Taking it a step further, it's been rather surprising to find that Ramsey has struggled to finish at the rim. He's had little problem taking the ball all the way to the goal but converting those opportunities into buckets has proven challenging.
In Big 12 play, he's made just six of his 14 shot attempts inside the restricted area in the lane. That's surprising given how dominant of a finisher he was coming out of high school.
Of course, the players waiting for him at the basket in the Big 12 are on a completely different level than those he easily dunked over while playing for Duncanville. But he was expected to be this year's version of Jarrett Culver, the guy who could break down defenses and get tough points off the dribble when his team desperately needed a tough bucket.
However, in the last four games, Ramsey has shot 54 field goals and only 25.9% of his shots are coming at the rim. He's also gone to the line no more than twice in a game in conference action.
Also, think about the fact that both Davide Moretti and Ramsey have attempted 28 shots from 2-point range in Big 12 play. The difference is that Moretti has taken only 38 total shots meaning that even he, the team's top outside shooter by reputation, has put up 73.6% of his shots from inside the 2-point arc. Of Ramsey's 54 shot attempts during that span, only 51.8% have been of the two-point variety.
It's great that Ramsey has been a far better 3-point threat than anyone would have imagined. But on nights when he's not hitting from deep, he's not been able to find offense elsewhere.
For instance, in the last two games, he's shot just a combined 1-9 from behind the arc. In those games against West Virginia and Kansas State, he was held to just eight and ten points respectively.
What made players like Culver, Andre Emmett, or Keenan Evans such special scorers was that they had diverse enough offensive games to continue to get their points when their jump shots didn't fall.
In the six games that he's shot below 30% from long distance, his scoring average has dropped to just 11 points per game. Nights like that might become more common as teams start to try to take away his ability to fire away from deep.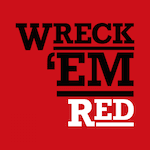 Thus, Ramsey needs to channel the part of his game that was his calling card prior to his arrival at Tech. If he can start to become a force off the dribble, one that can finish at the rim with more regularity, he will be able to take his game to yet another level and that could be exactly what this team needs in order to make a huge run in March.