Texas Tech basketball: Scouting the Iowa State Cyclones
Ahead of Saturday's Texas Tech basketball game against Iowa State in Lubbock, we take a look at what to expect from the Cyclones.
Saturday afternoon, the Texas Tech basketball team will have the opportunity to avenge its only home loss of the 2018-19 season when Iowa State comes to Lubbock.  The last time coach Steve Prohm brought his team to United Supermarkets Arena, we witnessed one of the most frustrating contests of the Chris Beard era.
In last January's 68-64 loss to ISU, Tech shot a dismal 6-15 at the free-throw line and 6-18 from deep.  That was eerily reminiscent of the only home loss the team has suffered since, the 57-52 defeat against Baylor earlier this month in which Tech was 5-12 at the line and 7-23 from 3-point range.
Of course, the Red Raiders got the last laugh in 2019 by knocking off Iowa State in Ames to bring home a share of the program's first Big 12 regular-season title.  After that game though, the Cyclones bounced back to win the conference tournament in Kansas City.
Given how this season is unfolding, that might be the only path ISU has to the NCAA Tournament, which it has reached in seven of the last eight seasons.  Currently just 8-8 overall and 1-3 in conference play, the Cyclones have taken a huge step back from where they were last season when they were one of the most dangerous teams in the conference and finished 5th in the league with a 9-9 record.
They have secured three wins over major conference opponents so far, Oklahoma, Alabama, and No. 16 Seaton Hall.  But on the other hand, they've dropped games to Oregon State, Michigan, Iowa, and even Florida A&M.   What's more, they have gone 0-3 in true road games this year.
ESPN.com's matchup predictor gives the Red Raiders an 80.5% shot at winning this game.  ISU comes in averaging 76.9 points per game, three more than the Red Raiders.  Defensively, they give up 71.4, which is 9.2 more than the Red Raiders allow.
Going back to last year's meeting between these programs in Lubbock, it's hard not to notice that many of the players that carried the Cyclones to the upset win are no longer still in Ames.  Grad transfer Maria Shayok, who led ISU with 20 points, is now in the NBA G-League.  Meanwhile, Talen Horton-Tucker (7 points, 8 rebounds, 3 assists) and Lindell Wigginton (11 points, 6 rebounds) are now playing professionally with Horton-Tucker in the Los Angeles Lakers organization.
Another name that fans might remember from last year's ISU team, Nick Weiler-Babb, who had 11 points and 5 boards last year in Lubbock is also trying to make his way in the professional ranks. But one player who came up huge for his team last year was 6-foot-9 forward Michael Jacobson who had 14 points and 10 rebounds.  He is back this year and averaging 7.7 points and 5.9 boards.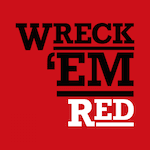 Let's go inside the ISU roster and stats for a scouting report on the next Red Raider opponent.  As we do, we will see why many expect the Red Raiders to handle their business this weekend.