Texas Tech basketball: Around the rest of the Big 12 for January 18
Though most of our attention will be on the Texas Tech basketball team's game against Iowa State on Saturday, let's look at the rest of the Big 12 action on tap.
By the time the Texas Tech basketball team tips off against Iowa State on Saturday, the other four games in the Big 12 will have been played. It sets up for a perfect day for Red Raider fans to sit back and enjoy some college hoops on the first weekend after the end of the college football season.
In case you are just checking in on where the Big 12 race stands, here's a quick snapshot of the league standings. No. 2 Baylor leads the conference at 4-0 followed by West Virginia, Kansas, and TCU all at 3-1.
Next, you will find the Red Raiders, Longhorns, and Sooners at 2-2. After that is 1-3 Iowa State and a pair of 0-4 teams, Kansas State and Oklahoma State.
There doesn't look to be any trouble in store for the Bears as they head to Stillwater today. The Bears have won 13-straight games while the Cowboys have lost four straight. Unfortunately for the Cowboys and the rest of the conference, OSU has lost what was once a fantastic home-court advantage as Gallager-Iba Arena has become a mausoleum in recent years. Look for the Bears to have no trouble in getting to 5-0 in the conference.
Kansas and Texas meet in Austin in a game that feels like one of the few remaining chances for UT head coach Shaka Smart to ignite any passion in his fan base. Texas does have some size to throw at the massive KU frontcourt but the UT guards don't have the type of game to match the Jayhawk guards.
Bill Self's Jayhawks have won 11 of their last 12 games against UT but did drop a game in Austin last season. On the other side, Texas is 8-1 at home but has already dropped a conference game at the Erwin Center to OU, which was just beaten by Kansas on Tuesday night in Norman.
The big question in this game is whether the Big 12's leading scorer, KU point guard Devon Dotson, will be able to play after missing the last game with a hip pointer. He's essentially a game-time decision and if he doesn't play, Texas could make this game interesting.
In Manhattan, the last two teams Texas Tech has faced, the Wildcats and Mountaineers will do battle. To envision a KSU team that was dominated on the glass by the Red Raiders being able to stand up to the Big 12's best rebounding team in WVU seems hard to fathom. Look for the Mountaineers to add to Kansas State's woes and push Bruce Weber's team to 0-5 in conference play.
Maybe the most intriguing game of the day will take place in Norman when OU hosts TCU. This feels like a game that could give us an idea which of these teams might have some staying power in the hunt for a top-4 Big 12 finish and which is just a pretender.
OU is riding a 4-game winning streak against the Horned Frogs into this game. Both teams enter Saturday coming off losses to elite Big 12 teams earlier this week as OU fell at home to Kansas and TCU lost at West Virginia.
The No. 2 and No. 4 scorers in the Big 12 will be facing off in this contest. TCU's Desmond Bane is putting up 16.8 p.p.g. and OU's Kristian Doolittle is just a tick behind him at 16.7. Will either of those players have a decided edge and carry his team to the win?
Ultimately, neither of these teams has the look of a Big 12 contender. But I think as little of TCU's Jamie Dixon as I do any basketball coach in the nation. Meanwhile, OU's Lon Kruger is a very salty coach who will get his team past TCU in a close game.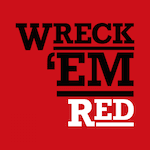 It's hard to believe but after this weekend, there will be only one game left until the much-anticipated showdown between the Red Raiders and Kentucky in Lubbock next Saturday. But before the Big 12 and SEC do battle once again, let's sit back today and root for some good old fashioned conference chaos, so long as it isn't in Lubbock.