Texas Tech basketball: Iowa State game preview and broadcast info
Here's a quick primer as well as the broadcast info for today's Texas Tech basketball game with Iowa State in Lubbock.
The last time we saw the Texas Tech basketball team on the court at United Supermarkets Arena was a rather frustrating night. In the 57-52 loss to Baylor, Tech was 5-12 at the free-throw line and gave up an unthinkable 17 offensive rebounds in their first home loss in almost a calendar year.
Of course, the previous home loss for Chris Beard and his program came on January 16th, 2019 against Iowa State and in that game as well, Tech was awful. We all remember that. But what many fans might not remember is that Khavon Moore played his only minute of Red Raider basketball in that game.
If you don't quite remember that name, no one would blame you. But many will never forget the drama that surrounded the former 4-star signee who was at the time he arrived, the highest-ranked player to ever step on the court for this program.
In fact, the 6-foot-8 forward was the No. 54 player in America in the class of 2018. He picked Tech over offers from OU, Florida, Alabama, Auburn, Florida State, Maryland, Georgia, and many other schools.
But his basketball future changed dramatically on January 16, 2018, when he sustained a severely broken leg that required major surgery and caused him to rehab for the next 12 months. That's essentially why he got a cameo appearance against Iowa State last year, because that game took place on the one-year anniversary of his injury.
That was a tip of the hat from Chris Beard to a player who had endured some rather significant setbacks and had worked tirelessly to get back on the floor. Little did the Texas Tech head coach know what that one minute of playing time would spark.
Don't forget that the ISU loss last year was the first of a 3-game losing streak when the Texas Tech offense went into a tailspin. During that time, fans began clamoring for Moore to get a serious shot a regular playing time hoping that he would be an offensive catalyst.
Moore also felt he was ready to play, though his coaches did not, and he began to openly question on social media Beard's decision to keep him sidelined. In the end, that proved to be the beginning of Moore's departure from Texas Tech following last season.
He's now transferred to Clemson where he has received a waiver to play immediately given that he has moved closer to his native Georgia. Appearing in 14 games thus far, he's averaging 2.9 points per game and has a season-high of 10 points, which he scored against Minnesota.
Hopefully, we will remember this year's visit from Iowa State for more pleasant reasons. This isn't a game that Tech should struggle in unless Beard's team fails to play up to its standards in regard to effort and intensity.
Iowa State is not at the level this year that they've been in recent seasons. At just 8-8, they have dropped games to Oregon State, Michigan, Iowa, and even Florida A&M.
There's little hope around Ames for a return to the NCAA Tournament. That's starting to warm the seat of head coach Steve Prohm despite the fact that he's won two of the last three Big 12 Tournaments and taken his program to the Big Dance in three of his first four seasons.
But like the Kansas State game on Tuesday, this is a game that Tech can't afford to lose if there is any hope of contending for a Big 12 title. That's where Beard is at his best.
When finding a way to motivate his teams to treat every opponent with the utmost respect and regard, no one is better than the Red Raider head coach in regard to preparing his team to take on an underdog. That's why we can expect his team to be rather amped to return home where the students are back from winter break and will be waiting to welcome them back to Lubbock as the U.S.A. will be rocking again.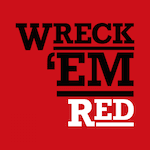 Broadcast Info
Tip-off: 3 pm CST
TELEVISION • ESPNU Ted Emrich • Play-by-Play Robbie Hummel • Analyst
RADIO • Double T 97.3 FM • Tune-In Radio App Geoff Haxton • Play-by-Play/Chris Level • Analyst