Texas Tech basketball: Kyler Edwards stays hot as Tech downs Iowa State
Kyler Ewards scored 22 points to lead the Texas Tech basketball team to a 72-52 victory over Iowa State Saturday in Lubbock.
Texas Tech basketball fans have to like the new and improved Kyler Edwards. Here's hoping he stays around for the rest of the season.
One game after putting up a career-high 24 points in Tuesday's win at Kansas State, the sophomore guard nearly matched that with 22 points to lead his team past Iowa State 72-52 in Lubbock on Saturday afternoon.
His three from the wing with 4:28 to play capped a 14-0 Red Raider run that essentially put this game on ice. Tech now sits at 3-2 in Big 12 play and 12-5 overall while dropping Iowa State 8-9 on the year and 1-4 in conference games.
It was a tale of two halves for the Red Raiders who were sloppy, lethargic, and turnover-prone in the first half, something that has been a reoccurring theme for Chris Beard's team at times this season. Despite jumping out to a 9-2 lead to begin the game, Tech let Iowa State up off the mat and the Cyclones even cut the lead to just two points on a couple of occasions as the teams engaged in a 27-21 pillow fight in the first 20 minutes with neither looking like a decent excuse for a Big 12 team.
But in a 45-31 second-half, the No. 23 Red Raiders came alive on both ends of the floor and stopped coughing up the ball as if they were playing with cooking oil on their hands. And it was at the 3-point line where they asserted their dominance.
For the game, Tech was 9-21 (42.1%) from behind the arc with five of those makes coming after the intermission. Meanwhile, ISU managed to hit just 3 of 22 shots from distance as they lived up to their reputation for being the worst 3-point shooting team in the Big 12. Entering the day, the Cyclones were just a 31% shooting team from downtown and they came nowhere close to matching even that lowly standard by shooting 13.6% on Saturday.
Hitting 5 of his 6 attempted from 3-point land, Edwards was Tech's best long-range bomber. That came on the heels of his 3-4 night from deep Tuesday in Manhattan. It's an encouraging sign for a player who Tech needs to be better from 3-point range than the 26.2% he's been so far this season.
Another great sign for the Red Raiders was the return of freshman forward Terence Shannon Jr. who missed the last two games with a back injury. Coming off the bench for the first time this year, the Chicago native was a factor with 11 points on 4-4 shooting from the field and 3-3 at the line.
Davide Moretti, who, like Edwards, was 6-9 from the field overall, had 17 points including three makes from behind the arc on four attempts. That helped offset another quiet day from leading scorer Jahmi'us Ramsey, who mustered just seven points on 3-9 shooting.
Ramsey entered the game fifth in the conference in scoring at 16.2 points per game just ahead of ISU's Tyrese Haliburton. The 6-foot-5 Cyclone point guard was held in check by the Red Raider defense as he scored 13 points on an inefficient 5-12 shooting effort.
Another key in this game was the fact that the Red Raiders turned Iowa State over 20 times. While each team had nine turnovers in the first ten minutes of the game, ISU continued to be charitable with the ball after the break including a string of 4-straight turnovers during the 14-0 run that proved to be the knockout blow in this game.
After the Cyclones cut the lead to 10 points at 50-40 with 9:28 to play, Tech caught fire. Beard would see his team hit five of its next six shots while ISU would go just 1-3 and commit five turnovers resulting in a 68-44 Red Raider advantage at the 3:55 mark.
It was another raucous environment inside United Supermarkets Arena on Saturday with the students back from winter break for the first time in 2020. And of course, to welcome them home, there was even a halftime performance by rapper Vanilla Ice.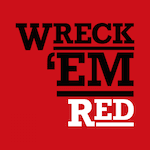 Perhaps that was fitting because Iowa State was ice-cold all game, shooting just 20-56 (35.7%) as a team. Meanwhile, Kyler Edwards and his team stayed as hot as we've seen them all season as they stormed their way to another dominant Big 12 win in Lubbock.