Texas Tech football: 3 Kentucky stars Red Raider fans need to know
This weekend, Kentucky comes to Lubbock in the most anticipated Texas Tech basketball home game of the year so get ready by learning about three Wildcat stars.
After months of anticipation, the Kentucky game is here.  It will be the most anticipated Texas Tech basketball home game ever played.
It's easy to see why.  Kentucky is the most high-profile basketball program in the nation (with all apologies to Duke) and has the most wins of any program in NCAA history (2,293) and the second-most national titles (8).
So fittingly, the man at the helm in Lexington is one of the most high-profile and controversial head coaches in sports.  It just wouldn't be right if Kentucky had a generic and boring leader on the bench.
John Calipari's success can't be denied.  The 60-year-old has gone 391-75 at Kentucky since taking over in 2009-10.  During that time, he's been to the Final Four three times and he won the National Title in 2014.
For his career, he's gone 765–214 (.780).  That includes four official Final Four births.  But the word official is the operative word.
That's because the NCAA has vacated two more of his Final Four appearances.  His 1996 Final Four run with UMASS was vacated in 1997 when former UMASS star Marcus Camby was found to have accepted impermissible gifts from an agent.
Over a decade later, his Memphis program had to vacate its 2008 NCAA Tournament run to the National Title Game after it was found that one of Calipari's players had another individual take the SAT test for him when he was attempting to meet college eligibility requirements. That player was proved to be Derrick Rose, the Tigers' star point guard and eventual No. 1 pick in the NBA Draft.  But those are just the tip of the iceberg when it comes to controversy and Calipari.
Back in 1994, he appeared to be somewhat of an innocent bystander when former Temple head coach John Chaney burst into Calipari's postgame press conference threatened to "kill" the UMASS head coach after UMASS beat the Owls.  That incident was captured on video and seemed to stem from Chaney's anger over Calipari's berating officials after the final buzzer.  In an ulgy incident, Chaney even rushed at Calipari before being restrained.
Another legendary head coach, Bob Knight, also took issue with Calipari but for a different reason.  Not a fan of the one-and-done trend that has become the norm in the game, the former Indiana and Texas Tech head coach spoke openly about his disdain for the Kentucky program because, in his estimation, Calipari's star players didn't have to worry about their grades given that they never returned to school after their freshman season.
But it hasn't just been his time in the NCAA that's seen its share of controversy.  In 1997, while coaching the New Jersey Nets, Calipari had to issue an apology after referring to a reporter as a "Mexican idiot".
His list of detractors is almost as long as his list of accomplishments.  Some even refer to him as the most hated coach in the nation.
But that really doesn't matter in regards to Saturday's game.  However, it does add yet another level of intrigue and touch more flavor to this once-in-a-lifetime game for Texas Tech fans.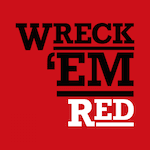 What matters more are the players that Calipari will send onto the court and as you might expect of Kentucky, there are more than a few good ones at Coach Cal's disposal.  So let's start to get our minds right with the most hyped home game in program history by looking at three Wildcats that the Red Raiders will need to tame if they hope to make the most of this opportunity.