Texas Tech basketball: 3 Red Raiders that must step up against Kentucky
For the Texas Tech basketball team to beat Kentucky today in Lubbock, these three Red Raiders will have to step up.
The Kentucky game is finally here Texas Tech basketball fans.  After months of hype, the most highly-anticipated regular-season game in Red Raider history will tipoff at 5 pm this afternoon.
"We're going to win on Saturday, no matter what the scoreboard says," Beard said Thursday.  "Just to have a chance to play this game in Lubbock means a lot.  I have great appreciation for Keenan Evans, Zach [Smith], Devon [Thomas], Justin [Gray], and Zhaire [Smith] and all those guys who helped our program get to the point where we deserve a chance to play one of the best teams in the country in Lubbock."
Beard is correct in the sense that this game does affirm where his program is and it foretells what it could become.  No longer merely an afterthought in the world of college basketball, the Texas Tech brand has never been more relevant.
Just as the prom queen doesn't go on a date with just any pimply-faced boy that askes her out, programs like Kentucky don't play road games out of conference against programs they don't feel are worthy of their time.  We said the same last year when Tech faced Duke in New York and this season when Beard took his team back to the Big Apple to square off with Louisville.
In fact, this will be Kentucky's only non-conference game on another school's campus this season.  Last year, they traveled to Louisville, their bitter in-state rival, to play a non-SEC game outside of Lexington.
"I have great respect and appreciation for [Kentucky head coach John Calipari] making this happen too," Beard said.  "I don't think the Big 12 and SEC got in a room and drew lottery cards and said 'Hey, Kentucky and Texas Tech'.  I think that there's been decisions made in this game and the fact that we've been good, and we've been relative, and we've proven that we can handle and deserve a game like this and I think Coach Cal supported this game as well."
It's long been known that schools have some input as to who they will play in the Big 12/SEC Challenge.  For example, don't ever expect Texas A&M to agree to come to Lubbock.  Likewise, Kansas or Kentucky aren't going to play last-place teams from the other league.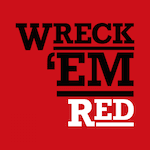 Thus, this game is a bit of a reward for a Red Raider program that continues to try to move into the same neighborhood as Kentucky.  But for that to happen, Tech is going to have to win these high-profile opportunities and that's why the following players have to step up this afternoon.