Texas Tech basketball: John Calipari impressed with atmosphere and Chris Beard
After Saturday night's classic against the Texas Tech basketball team, legendary Kentucky head coach John Calipari had nothing but great things to say about the Red Raider fans and Chris Beard.
Regardless of what you think about his somewhat checkered past, Kentucky head coach John Calipari is a legend. When he speaks, everyone listens. And after his team earned a gutty 76-74 win over the Texas Tech basketball team on Saturday night, he shared his thoughts about what Chris Beard has built in Lubbock.
"This dude can coach," Coach Cal said of Beard after the game. "I watch him in close games like the one tonight, he does the right things. I have great respect for him. He's good at what he does & his kids fight for him."
During the ESPN broadcast, the commentators shared a nugget about how another legendary figure in the game, North Carolina head coach Roy Williams, flew to Lubbock this summer to spend some time with Chris Beard and pick up some tips from him. Let that sink it.
Beard is the real deal, we all know that. But the more exposure he and this program receive, the more he earns the respect he deserves nationally.
Of course, last year's run to the National Title Game opened the country's eyes to what Beard has accomplished in Lubbock. Now, he's going to continue to pick up notoriety as one of the game's elite minds.
Take last night for instance. Though this Red Raider team is talented, Beard's roster paled in comparison to Kentucky's, which featured multiple former 5-star recruits and McDonald's All-Americans, two 6-foot-10 centers, and only one freshman that played a significant role.
But despite having to rely on four freshmen as part of his 8-man rotation, going into battle with 6-foot-6 Chris Clarke spending huge swaths of time defending players four or five inches taller than he is and seeing his leading scorer, Jahmi'us Ramsey have his worst night of the year, Beard was able to coach his team well enough to put them in position to win the game on multiple occasions
"That is a great defensive team," Calipari said. "They are one of the best defensive teams in the country. They take away stuff, they switch, they collapse and make you find other shooters. If you do not find other shooters, you are not going to score. You are going to run someone over, or you are going to take a tough shot. This was a terrific win. Yeah, we get a lot of these, but this one was kind of unique and special.".
When a coach who has seen it all like Coach Cal calls a win "unique and special", that's not to be taken as flattery. Calipari is a straight-shooter who pulls no punches when he speaks. His success has afforded him the latitude to do so. Thus, when he said he was impressed with the atmosphere inside the U.S.A. last night, he meant it.
"Oh, it was great," he said. "We drove by the tents last night. I wanted them to see that you bring out the best in people. Like, here they come. And let me say this: I've been in all kind of different arenas; this was a classy crowd. I've been to arenas where I don't want to take my team back; it's disgusting. Like, why should I do that and help another program when you've got to walk in and it's just disgusting. Here? That was a classy crowd. And they were all over it for their team. They didn't care about us. That's how our crowd is. Our crowd, if someone comes in our building and scores 40, they'll give him a standing ovation! That's the way this should be."
Calipari's acknowledgment of Tech's crowd as being "classy" flies in the face of what many people around the Big 12 and one particular SEC school might tell you about what they've encountered in Lubbock. Thus, it is important for the fans [students especially] to understand how important it is that they act in a manner that doesn't cast the program in a negative light.
Every aspect of what the entire crowd put forth last night was Texas Tech at its best. Moreover, it is important to understand why it matters that a coach of Calipari's prestige was pleased with the atmosphere.
Make no mistake, in order for this game to happen, Kentucky had to sign off on it. The UK program is in a position to call its shots, even with the folks at ESPN and the SEC. When it comes to basketball, they run the show.
Thus, when Calipari referenced "[helping] another program" by bringing his team to their campus, he wasn't being arrogant. Just like Norte Dame or Alabama in football, a visit to your campus by Kentucky is rare and special and it does wonders for a program such as Texas Tech, which is trying to continue to climb the ranks nationally.
Though Saturday's game didn't go Tech's way, the entire evening did because once again, the nation had its eyes focused on the Red Raiders, and this time Lubbock as well, and what they saw impressed. That doesn't happen if Coach Cal hadn't agreed to bring the most high-profile team in the nation to town.
Night's like Saturday have to be earned by the team but also by the fans and the community and by showing out the way they did, both the Texas Tech basketball team and the Red Raider fan base likely earned more opportunities for mega games like that down the road.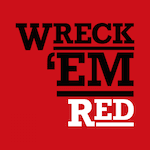 Who knows, with the Big 12/SEC Challenge set to continue until at least 2025 there's a chance we haven't seen Coach Cal in the Hub City for the final time. If he comes back, here's hoping that his team leaves their half-court 3-pointers in Lexington.