Texas Tech basketball: Kentucky loss felt eerily similar to National Title Game
Saturday's 76-74 loss to Kentucky for the Texas Tech basketball team felt eerily similar to another painful high-profile loss, the 2019 National Title Game.
Huge swings of emotion, a frenetic end to regulation, missed opportunities, an opposing player that just couldn't seem to miss, an eventual overtime loss when you had the attention of the entire country.  For certain, Saturday's 76-74 gutwrenching OT loss to Kentucky felt eerily similar to the 2019 National Title game for Texas Tech basketball fans.
On one hand, it would be shortsighted of us to take for granted the fact that this program is competing at the level it is these days.  Yes, these high-profile shortcomings may be taking years off of our lives but it sure beats the days, less than a decade ago, when Texas Tech basketball was as irrelevant on the national stage as any program from a major conference could be.
Stop for a moment and consider that Kentucky, the most storied basketball program in the NCAA, agreed to come to Lubbock for a game and there's no way one can't be amazed at where this program is in 2020.  It marked the first time that Tech had faced a ranked team in the Big 12/SEC Challenge.
Think about where Tech was when the two conferences first began their yearly series back in 2013-14.  In the third game of the year, the Red Raiders lost 76-64 on the road to an Alabama team that would finish the season just 13-19 overall.
The next year, Tech hosted and beat an Auburn team that was even worse as the Tigers ended that season 15-20 overall.  Of course, after reaching last year's Final Four, the Tigers are another program that has seen their stock sore since the start of the Big 12/SEC Challenge.
In the third year of the event, Tech lost in OT on the road to an Arkansas team that managed to go just 16-16 that season.  Then, in the 2016-17 season, Chris Beard's first in Lubbock, Tech was paired with an atrocious LSU team that wound up just 10-21 overall on the season.
It wasn't until 207-18 that Tech faced a team with any type of national profile in the SEC Challenge when the Red Raiders won a road game against a South Carolina team that was coming off of a Final Four birth.  Of course, the Gamecock team that Tech beat in 2018 was a vastly different squad after losing most of its stars from the previous season.  In fact, that year, coach Frank Martin's team would end the season just 17-16.
Even last year, with Tech coming off of an Elite Eight run, the opponent the SEC sent to Lubbock was not a national power.  Sure, Arkansas has a storied history and the fact that the Hogs and Raiders were once SWC rivals added some flair to the game, but last year's Razorback team was just an 18-16 team and didn't even reach the NCAA Tournament.
Thus, Tech fans have to appreciate what we just witnessed.  Tech was finally invited to join the adult table in this Big 12/SEC Challenge and though the Red Raiders lost a winnable game, Tech proved more than worthy of being taken seriously as a program that is not just content to live on the success of last year's run.
People around the nation have to start admitting that Tech has staying power.  That's one reason why continuing to play in marquee games like this is so invaluable for the brand.
But on the other hand, Beard's team had a golden opportunity to secure that win, which would have made Saturday night all the more special.  Granted, it's tough to beat the likes of Kentucky.
What's more, Tech has claimed monumental wins over programs like Michigan State and Gonzaga in last year's NCAA Tournament and those outweigh any regular-season game, even ones against the Wildcats.  Plus, the victory over No. 1 Louisville earlier this season in New York was as high-profile as it gets.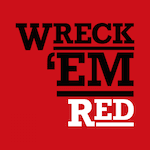 Still, whenever you leave a win behind that you could have brought home, it's going to leave a bitter taste, regardless of how positive the overall experience was.  We learned that in the most painful of manners last April in the National Title Game and as we compare that loss to Virginia to Saturday's loss to Kentucky, it's amazing how many similarities there are between the two games.