Texas Tech basketball: Russell Tchewa provides spark against Wildcats
In Saturday's showdown with Kentucky, freshman Russell Tchewa proved he can help this year's team by providing a spark inside.
The Texas Tech basketball team has needed help in the post all season. That was especially true against Kentucky on Saturday night as the Wildcats featured two athletic 6-foot-10 or taller forwards.
It isn't that Tech doesn't have a player of that size, it's just that Chris Beard doesn't seem to fully trust the big man he has on his bench. But in the five minutes of action 7-foot freshman Russell Tchewa played against Kentucky, we saw reason to believe that the Cameroon native can help this year's team.
It wasn't until the 2:46 mark of the first half that we got our first look at "Big Russ" as Techewa is affectionately known to his teammates. But as soon as he stepped on the floor, he made his presence known.
On his first defensive possession, the former 3-star signee blocked Kentucky's Immanuel Quickley at the rim. That type of rim-protection is something that this team has missed this season after losing Tariq Owens to graduation last year.
The grad transfer from St. John's set a Red Raider record for blocks in a season with 92 in 2018-19 and transformed the Tech defense into the nation's best. While Tchewa isn't nearly as quick or athletic as Owens, he does have the size to protect the rim and at least deter shots, which is something that opponents have done to Tech's guards almost all year.
Less than a minute later, Tchewa then made a surprising contribution on the other end of the floor. Far from being known as a jump shooter, he confidently lined up a shot from just inside the 3-point line and the line-drive found its mark. That bucket pulled Tech to within 31-30 and sent the crowd into a frenzy.
On Tech's next offensive position he gave his team the lead by converting on a layup that required him to go under the basket to avoid the defender. At times this year, he's struggled, as many young big men will, to catch bounce passes in traffic. But on that play, he took a brilliant feed from Kyler Edwards and made an athletic play to put Tech up 32-31 thanks to his personal 4-0 run.
In the second half, Tchewa would make only a brief cameo appearance as a missed defensive assignment seemed to draw the ire of his coaching staff. But it's fair to think that he did enough in his first-half run to warrant more opportunities.
This isn't to suggest that he's going to be a savior and if by some miracle the NCAA does allow 6-foot-8 transfer Joel Ntambwe to play this year, Tchewa may not be needed much moving forward. But until that happens, if it ever does, Tech might need more from Big Russ, especially in the next two games against West Virginia and Kansas, both of which have elite size inside similar to Kentucky.
Tchewa hasn't played more than five minutes in any game since he saw 11 minutes of garbage time against the mightly Long Island Sharks on the Sunday before Thanksgiving. Thus, don't expect a ton of run for him moving forward but consider what he could bring to the team by simply giving us a critical rebound or block and a bucket or two against teams with size advantages.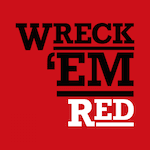 To say that Tchewa remains a project is fair. But what we saw on Saturday was enough to indicate that the components of a good college player are already in place, it's just up to Big Russ and his coaches to refine his game. But don't be surprised if more of that process happens in actual games this year because if he can compete against Kentucky, he should be able to at least hold his own against any team in the nation.