Texas Tech basketball: Hidden turning points in Red Raiders' victory over WVU
In the Texas Tech basketball team's 89-81 victory over West Virginia, these hidden turning points proved to be pivotal.
West Virginia head coach Bob Huggins was briefly honored prior to Wednesday's game in Lubbock for drawing even with legendary former Kentucky head coach Adolph Rupp at No. 7 on the all-time NCAA Division 1 wins list by earning his 876th career victory on Saturday.  But one thing he hasn't done in his legendary career is beat the Texas Tech basketball team in Lubbock during the Chris Beard era.
Losing his 4th-straight game inside the U.S.A., Huggins saw his team give up a season-high in points.  That was quite shocking for a team that came into the game averaging just 61.5 points allowed per game.
"We gave up too many points," Huggins said after the game.  "We didn't take away anything that we actually talked about and drilled in practice. When you do that against Chris' teams, you're going to pay for it. They're welled coached and they made shots. We didn't, they made shots."
Meanwhile, the Mountaineers couldn't do the same, at least from deep.  Making just 4-18 of their 3-point attempts, they shot just 22% as a team. And as Huggins pointed out, many of their misses were good looks.
"We can't make a big shot … and they're step-in shots," Huggins said. "Hard shots are ones when you're going really fast and you've got to get your feet together and keep them underneath of you, go up and straight down. Step-in shots are horse shots when you're out in the driveway.

"If we're going to be great, our perimeter guys need to make open shots."
Of course, Red Raider fans have seen their team on the short end of poor shooting nights this year.  For example, in Saturday's loss to Kentucky, Tech was just 3-19 from downtown in its own gym.  In another high-profile game, a 57-52 loss to then No. 4 Baylor, Tech was just 7-23 from deep.
Making shots though is what a team that has its proverbial back against the wall has to do.  And there's no question that Tech was the more desperate team on Wednesday night.  Huggins admitted as much.
"It was the typical deal of we were coming into a place where they're desperate and they're going to play hard and be ready to play, and that's what our guys haven't learned yet," he said. "You watch the great teams and they (show up) all of the time. If they're going to take an off day and maybe not be as good it's going to be at home against the last-place team. It's not going to be coming into a place like this."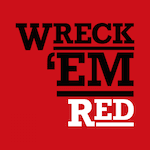 So let's go back to this critically important victory to see where there were hidden moments that helped turn the night Tech's way.  And of course, in a game that saw 54 fouls called, we start with a whistle that put WVU in a tough spot.