Texas Tech basketball: Hidden moments in Tech's victory over UT
Before we move on from the Texas Tech basketball team's victory over Texas on Saturday, let's look back at the hidden moments that went the Red Raiders' way in Austin.
By taking on TCU Monday night in Lubbock, the Texas Tech basketball has a chance to rehearse for the NCAA Tournament by playing two games in the span of three days.  But while Chris Beard and his team have already turned their focus to the Horned Frogs, Red Raider fans are still reveling in what we witnessed on Saturday afternoon in Austin.
The simple truth is that we are now at a place where Texas Tech basketball is in a different solar system than Texas.  But regardless, the Red Raider faithful will savor a victory over the Longhorns for as long as possible no matter if it is in football, basketball, baseball, or team duck racing.
After all, winning basketball games in the Erwin Center has been rare for this program.  Saturday's win brought Tech's record in that venue to just 2-22 since 1997.
Perhaps that is why the 62-57 triumph felt so monumental for Tech fans.   Beating a team that is below .500 in conference play normally doesn't feel as satisfying as this win did but when the opponent is wearing burnt orange, the emotions and stakes are escalated.
There are a number of reasons why this game won't soon be forgotten in Lubbock.  First of all, the way the game unfolded made the triumph even more rewarding.  Trailing by as many as 16 points in the first half and 12 at the intermission, Tech did to UT what we have so frequently seen the Horns do to the Red Raiders over the years; break their hearts.
Until the Chris Beard era, UT was almost always the favorite when these programs met, especially in Austin.  Thus, Tech was always cast in the role of the plucky little underdog and it seemed that no matter how close the Red Raiders came to taking down those mighty Rick Barnes teams of the 2000s, defeat was always inevitable.
But in the current incarnation of this rivalry, Tech is the proverbial hammer and UT is now playing the role of the nail as the good guys have now won five-straight in the series.  That's why the first half of Saturday's game was so frustrating.
Tech was being taken to task by a UT squad that does not have a reputation for being aggressive, physical, or tough-minded.  It was like we were witnessing a bad dream. Fortunately, Tech woke up after the break.
"Kind of a tale of both halves," Chris Beard said.  "First half, we just couldn't get into a rhythm offensively.  Give Texas some credit for that.  Some of the best defense we've seen in the first half and we just couldn't get going.  They were switching ball screens, it took us a little bit of time to adjust to that and just turning the ball over too much on offense.

"Second half we played a lot better.  It was a one or two-turnover half and our defense got very aggressive.  We got multiple contributions from guys on our roster today.  We had three in double-figures and Chris Clarke was close…And I thought we played really good defense down the stretch."
Also making the win all the more delicious for Tech fans was the sense that it seemed to drive a huge nail in the 2019-20 Longhorns' coffin.  Many believed that this game was not only the last stand for this year's Longhorns, but it was also the personal Alamo for embattled UT head coach Shaka Smart.
After his team's latest collapse, the fifth-year head coach seems as close as he's ever been to losing his job down on the 40 Acres.  Of course, most Red Raider fans would love to see him stay given the way his teams have woefully underperformed.
But with games left against Baylor, West Virginia, Oklahoma, and Texas Tech (the latter two on the road), it seems like UT's hopes for an NCAA Tournament birth are on life support at best.  But that's enough about the Horns.  Texas Tech has bigger fish to fry.
This team is starting to take on the look of last year's team, which played very unevenly, especially on offense, until the start of February.  Of course, we all remember the 9-game winning streak to close the regular season and clinch the program's first Big 12 championship and that memory has sparked plenty of questions for Beard about another potential run.
"I tell our guys all the time, there's a way to win every 40-minute game," he said.  "Doesn't mean you gotta be the better team, you just gotta be better than the opponent for 40 minutes.  I think we're getting better.  Our young guys are growing up, our veterans are settling down…Last year, we won nine-straight to win the league.

"I don't know if that will get it done this year because of how good Baylor is but we're going to try to give ourselves a chance.  Our goal is to try to win every game.  It sounds like Captain Obvious but that's really our approach and sometimes you just gotta go beat somebody better than you, just gotta win in that 40-minute game and today, we're fortunate to get this one."
The victory over UT likely ensures that Tech will be headed back to the Big Dance for the third-straight year (a program first). Now with three Quadrant 1 wins on the resume, Beard's team must simply hold serve by beating the teams it will be favored to beat the rest of the way in order to be one of the 68 teams with a shot to win it all.
In an odd way, playing such a terrible first half may have been a blessing in disguise.  That's because it forced the Red Raiders to get back to the program's DNA in order to fight back.  And as Tech fought back, the familiar traits that have come to define Red Raider hoops were impossible to miss.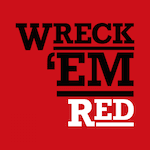 Now that we have the benefit of hindsight, let's take a look at the moments when the tide began to turn in Tech's favor on Saturday afternoon.  These hidden moments were crucial in the sense that they were instances when the seasons of both the Red Raiders and the Longhorns took what could be potentially dramatic turns in opposite directions.