Texas Tech basketball: Red Raiders show no mercy to Horned Frogs in historic rout
Monday night, the Texas Tech basketball team destroyed TCU 88-42 in the program's largest margin of victory ever over a Big 12 opponent.
Inside United Supermarkets arena on Monday night, the lowest-scoring player on the Texas Tech basketball team, Andrei Savrasov, came within a single point of matching the scoring output of the Big 12's second-leading scorer, TCU's Desmond Bane. That's just one way to put into perspective the 88-42 Red Raider victory over the Horned Frogs.
The 46-point blowout set a new mark for the largest margin of victory in a Big 12 game by any Red Raider team, surpassing the 35-point beating Tech haded to Oklahoma State in this season's conference opener.
It all came down to putting the clamps on Bane, who had 27 points against Tech last month when the Frogs handed Chris Beard's team a 65-54 loss in Fort Worth. That night the senior made 10/15 shots from the floor but on Monday, he was just 3-9 for seven points.
Meanwhile, as the Red Raiders emptied their bench over the final ten minutes of the game, both Savrasov and Russell Tchewa managed to score six points apiece meaning that the two players that sit last on the team in scoring at a combined 2.4 points per game outscored Bane by five points and came within just four points of getting to his season average of 16 points per game.
There is no doubt that the Red Raiders took it personally in their rematch with Bane and the Fogs. Swarming him whenever he touched the ball and selling out to keep him from driving to the rim, Tech flustered TCU's star from the moment the game began.
He did not score his first points until there were less than four minutes to play in the first half. By that time, he had committed four turnovers and his team had already fallen into a 40-15 hole.
Opening the game on an 11-2 run, Tech took this game by the throat and never let go. Shooting 16-26 from the field and 9-13 from 3-point range in the first twenty minutes, the home team played it's best half of basketball all season.
That was encouraging after Beard's squad started each of the last two games with lethargic and uninspiring first halves. Most notably was Saturday's start in Austin when Tech faced a 16-point deficit in the middle of the first half on the way to a 12-point halftime disadvantage.
No such concerns arose Monday night as Tech led 45-20 at the intermission meaning that had Tech not scored a point in the second half, TCU still would not have had enough offense to win. It was just one of those nights when everything went the way of the boys in Scarlet and Black.
TCU turned the ball over 20 times to the Red Raiders' six. That led to a 36-4 edge in points off turnovers for the home team.
The Frogs made just 12-45 (26.7%) of their shot attempts. Meanwhile, Tech was 13-22 (59.1%) from 3-point range.
TCU had just one player in double-digits, Jaire Grayer, who had 10 points. Texas Tech had five, including Davide Moretti and Jahmi'us Ramsey who each had a team-high 17 points.
It was a continuation of the recent trends that have these teams speeding in opposite directions as we are now just over a month from Selection Sunday. Capturing their third-straight win and fourth in five games, the Red Raiders moved to 16-8 on the year and 7-4 in Big 12 play, which is good for third place behind Baylor and Kansas and a half-game ahead of West Virginia, which hosts Kansas on Wednesday night.
Meanwhile, the Horned Frogs have now dropped six-straight games since beating the Red Raiders on January 21st. What's more, in the last three of those games they failed to surpass 57 points and in each of their last two, they've been unable to get out of the 40s.
When this year's Texas Tech basketball roster was assembled and we saw that it included nine newcomers and seven freshmen, we thought that this version of the Red Raiders might take some time to gel but the hope was that by the time the postseason arrived, Beard would have his team playing at its best. That's what it appears might be happening.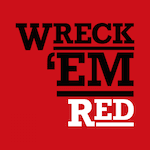 Starting with the second half of Saturday's victory over Texas, the Red Raiders have looked like a different team in the last 60 minutes of basketball. Tech has outscored its last two opponents by a combined 63 points in the last three halves of play and if what we saw on Monday night is any indication, the Red Raiders are starting to play like a team that no one in the nation wants to see on the schedule or in their bracket come March.