Texas Tech basketball: Broadcast info and preview for UT game
Today, the Texas Tech basketball team takes on Texas and here is your preview and broadcast information.
It's a good thing that the team opposing the Texas Tech basketball team today will be wearing burnt orange. That's because, if it were another opponent with a losing Big 12 record and not a hated rival set to provide the resistance this afternoon, this could be a classic trap game.
Next week, the Red Raiders will be back in the national spotlight twice as they take on the top two teams in the nation, No. 1 Baylor on Monday and No. 2 Kansas on Saturday. Both of those games will have the attention of the nation but before then, this team had better give Texas its full attention today.
UT comes into this game playing its best basketball of the year. And it's been the offense that has provided the spark.
According to SI.com, "Texas has converted 51.8% (71-137) from the field, including a 46.4% mark (26-56) from three-point range, during its current three-game win streak The Longhorns have topped 50% FG shooting in each of its last three victories and are 7-0 this season when converting at least 50% from the field."
Guard Matt Coleman and his 12.5 points per game lead the Longhorns. Against Tech in Austin, he was huge with 17 points.
Also a problem in that game was guard Andrew Jones, who came off the bench for 18 points. He's again playing well as he's scored over 21 points in two of his last three games.
Interestingly, this UT resurgence has come after two key injuries. Forward Jericho Sims is out for the year and guard Jase Febres has not played since an ugly knee hyperextension he sustained against Tech earlier this month. But yet, Shaka Smart's team is finding ways to win.
"I think our guys have looked at our injury situation and looked at the fact that we had lost some games culminating with that [Iowa State] game and said, 'The guys we have, we've got to find a way to be better,'" Smart said to Chuck Carlton of the "Dallas Morning News". "One thing that's a lesson for all of us as coaches is it's easier for the guys to lose themselves in the fight when you've only got eight of them."
Texas enters this game as the far more desperate team. Virtually every NCAA Tournament prognostication has the Horns on the outside of the bracket while Tech is squarely in line for its third-straight bid.
Additionally, Smart is essentially coaching for his job in Austin. Though the folks at UT don't want to pay their coach's $10.5 million buyout, they want even less to enter their new arena (which opens in 2021) with a program that is languishing closer to the bottom than to the top of the Big 12 hierarchy.
It all makes for another fascinating visit from the Longhorns. It's never a dull moment when Bevo's boys ride into town and with this game arriving on the eve of March, we should expect tensions and emotions to be rather high on both sides of the equation this afternoon in Lubbock.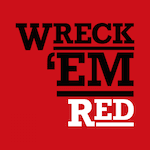 Broadcast Info:
Tip-off: 11 am CST
TELEVISION • ESPN Rich Hollenberg • Play-by-Play Fran Fraschilla • Analyst
RADIO • Double T 97.3 FM • Tune-In Radio App Geoff Haxton • Play-by-Play Chris Level • Analyst