Texas Tech basketball: Red Raider offense among best in Big 12 so far
The college basketball season is now six weeks old so we can start to analyze some statistical categories to see where the Red Raiders are outperforming their Big 12 rivals.
There are only three games remaining until the Texas Tech basketball team begins Big 12 play. That feels hard to fathom because it seems like it was just last week when we were watching the unveiling of the 2019 Final Four banner on opening night.
But the season is now nine games old and we are starting to see the young players look more comfortable on the floor. Likewise, the grad transfers, Chris Clarke and T.J. Holyfield, are starting to figure out what their team needs of them.
Nine games is a decent enough sample size to start making some initial judgments about what type of team we might have on our hands this year. That's especially true given that Tech is coming off of four-straight games against Power 5 teams.
So let's take a look at the overall statistics for all the Big 12 teams because we might start to get an idea of where Tech will have some advantages in conference play.
It might surprise some fans that Tech currently ranks third in the league in scoring at 78 points per game. Only Kansas (83.11) and Iowa State (80.6) are scoring more.
But as one might assume, the offense has not been as good against major conference opponents. In the last four games, the Red Raiders have scored just 66.7 points per game and have reached 70 points only twice.
Some of that has to do with the increase in competition but it also is a direct result of the hamstring injury to Jahmi'us Ramsey, which has cost the star freshman the last three games. At 17.3 points per game, he is fourth in the Big 12 behind Dotson of KU (19.7), Reaves of OU (17.6) and Butler of Baylor (17.4). When he returns, it should be far less of a chore for the Red Raiders to put the ball in the bucket.
One way the Red Raiders are supplementing their offense, especially with Ramsey out, is by being a very good free-throw shooting team, something that isn't all that common for such a young squad. Hitting 76.3% of their attempts from the line, the Raiders are second in the Big 12 behind only Oklahoma (76.5%).
What's more, the Red Raiders are doing a nice job of drawing fouls. Having shot 194 free throws thus far, Tech is tied for the second-most attempts in the league along with Kansas. The difference is that the Jayhawks are making just 66.5% of their attempts. For what it's worth, West Virginia has shot the most free throws in the Big 12, 212.
Continuing with the theme of offensive success, it is interesting to see that Tech is third in the league in field goal percentage at 45.3%. That trails only Kansas 52.3% and Iowa State 45.7%.
Again, that is encouraging given how much youth on this team. What's also interesting is that the team's presumed top two shooters, Kyler Edwards and Davide Moretti are two of the four players with the lowest field goal percentages on the team at (35.1%) and (42.7%) respectively.
Overall, this is not a particularly strong 3-point shooting conference thus far. Tech is third in the Big 12 despite shooting just 33.5% from deep. In fact, no team is hitting over 40% as KU leads the way at 37.6%. One might believe that when Moretti (39.2%) and Edwards (25.6%) get back to shooting as well this year as they proved capable of last season, Tech might be the best outside shooting team in the conference in terms of percentage, especially if Ramsey continues to shoot as well from deep as he was before his injury.
Another reason the offense continues to be a pleasant surprise is because the Red Raiders are moving the ball particularly well. Accumulating 18.3 per game, Tech leads the league by 1.3 per game over Kansas. Again, that's where Clarke has been fantastic as he is averaging 5.9 per game. He is on pace to potentially challenge the single-season program record of 212, set in 2008-09 by John Roberson.
On the boards, Tech is second in the Big 12 in rebounding margin at +7.56 per game. That trails only West Virginia which averages +9.22.
It is interesting to see that this team is having such success on the glass given its lack of size. Much of that is due to the fantastic work of 6-foot-6 Clarke who leads the team with 8.8 boards per game, 4th-best in the Big 12.
Even during the recent 3-game losing streak, Tech out-rebounded Iowa and DePaul. And on Tuesday night, Beard's team had a 40-38 edge on the glass against a much larger Louisville team.
Defensively, the Red Raiders are especially effective when it comes to cleaning up the opposition's misses. Leading the Big 12, Tech is pulling down 79.5% of the defensive rebounds available this season.
That's going to be a key as conference play begins. Being as this doesn't look like a great year for outside shooting from the league, teams will look to do some damage on the offensive glass so making certain to limit the second-shot opportunities will be critical, especially against teams with tons of size like KU and WVU.
What is more than a little surprising is the fact that Tech is currently ranked higher in most offensive categories than it is in most defensive ones. But as we saw against Louisville on Tuesday, the defense is starting to round into form.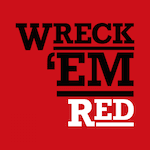 Hopefully, that will help to compliment the offense as Tech goes through the Big 12 gauntlet. If Tech continues to be one of the better offensive teams and the defense starts to look like a typical Beard defense, this team is could be especially tough to handle.