Texas Tech football: Receiver Seth Collins granted sixth season
Friday, the Texas Tech football program learned that receiver Seth Collins has been granted a sixth year of eligibility after he missed the entire 2019 season.
What is expected to be a rather young receiving corp next year for the Texas Tech football program got a nice bit of news on Friday when the NCAA granted a sixth year of eligibility to receiver Seth Collins. After transferring to Tech from Oregon State in 2018, he missed the entire 2019 season due to a broken collar bone that he sustained in the offseason.
"We're happy for Seth that he will get to continue his career and return to the field next season," head coach Matt Wells said. "He has worked diligently with our training staff to rehab from a significant injury. We look forward to him participating in our offseason strength and conditioning program and spring practices."
In his first year as a Red Raider, he pulled in 32 passes for 317 yards, good for 4th on the team in both categories. He also found the endzone twice in a season when he switched from playing outside receiver with the Beavers to playing the slot receiver for Tech.
Originally a quarterback in Corvallis, he threw for 935 yards and 6 touchdowns while being picked off four times as a freshman in 2015. Since moving to receiver as a sophomore, he's pulled in 80 passes for 865 yards and four touchdowns in his career.
As a pass-catcher, his best game came against Boise State in 2016 when he had 106 yards on nine receptions. That is his only 100-yard game to date.
For Texas Tech, his most impactful game came at Oklahoma State in 2018 when he caught 3 passes for 59 yards in the Red Raider win. He also had touchdown grabs against Baylor and Kansas.
It will be interesting to see what the coaching staff decides to do with the 6-foot-3 target. We never got to find out last season because he sustained his injury during spring practice.
I would like to see him get some looks at outside receiver where his size can be an asset. That's an area where Tech will be looking for a new starter after 2019's second-leading receiver R.J. Turner graduated.
Playing wide receiver, rather than in the slot, is where Collins has spent the majority of his career and it might make sense for him to move back outside this fall. That could also help offset a potential move back inside by Kesean Carter. The 5-10 junior-to-be had a career game while playing in the slot against Texas in the 2019 season finale with 150 yards and a TD on 11 catches in his only start of the year at inside receiver.
Tech does return Erik Ezukanma and T.J. Vasher, two key contributors on the outside who will be a sophomore and a senior respectively. What's more, many expect incoming 2020 signees Ja'Lynn Polk and Loic Fouonji to compete for playing time immediately upon arrival.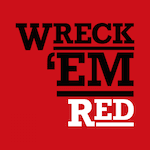 Regardless, it is nice to have another senior to add to the competition. And if Seth Collins can prove to be healthy this fall, he could be a nice weapon to add to a Red Raider offense coming off of a season of unprecedentedly low production in the passing game.